Tigger passed away about a month ago. He was thirteen.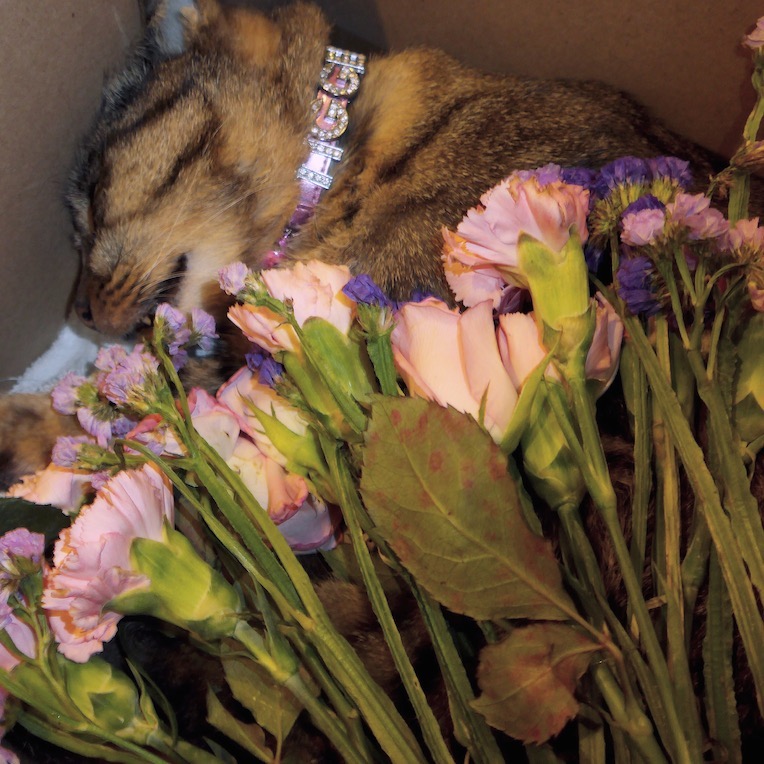 Tigger had a big heart. Metaphorically, and literally.
His heart was about 1.5 times bigger than it was supposed to be, and because of that, it was weak and could not pump normally. Cardiomyopathy, to be specific, according to Cheryl. Cheryl had been watching over Tigger for the past six months since his first semi heart attack. Fluids backed up into his lungs and he couldn't breathe and that was when we first discovered Tigger's heart problem. Tigger made it through two attacks in the last six months before he succumbed to the third. I brought him home from Cheryl's clinic after he recovered from his first attack and he gained back all the weight he lost and was his happy self again. But it happened again. And again.
Tigger did not like the other cats. He always liked being alone with me. And that's why he sleeps by my side every night. He would wake up when I did and walk me to the bathroom every morning. He would also come to the door when I got home to greet me and walk me to my bed again. Sometimes he would climb onto me and sit on my chest in the middle of the night, waking me up as a result. I still wonder why. Tigger loved to talk too. He would meow back when you called his name. Or just to let you know he missed you because you were gone all day. I think he even tried to speak the word "hello" once.
Two days before he died, he had another attack. And I knew it was about time. I wrapped him in a towel and hugged him to sleep that night. I told him everything that I wanted to tell him and thanked him for being the most amazing companion I could have ever asked for. Every day, I saw it in his eyes that I was his world. To him, I was everything. I was his source of food, entertainment, hugs, and love. He was the only cat that would come to me when I called his name.
On the day of my project presentation, he had to go to the hospital in the morning because he could not move. I could tell that he was in a lot of pain. After dropping him off at the clinic, I went to school around 12 in the afternoon. Sometime later in the day, I didn't feel quite right and felt like I need to see him and so I left school and we went to the clinic. When we arrived at the clinic, the nurse told us that Tigger had passed about 15 minutes ago.
We brought Tigger home that day and put him in a box with a blanket and all of his favourite toys. We filled the box with flowers and lit a candle next to him and waited for the morning to bury him in the back next to his brother who had died one year earlier.
Most days I come home and as I'm walking up the stairs to my room I still want to call out his name so that he would come to the door to wait for me. The room feels so empty now. But kitty heaven sounds amazing, and I'm sure it is. Mommy loves you wherever you are.