Advertorial
Did you know that Eye Trendy | Your Eyewear Collective carries more than 22 brands of eyewear? The latest featured collection being MANGO Eyewear! It was great to be part of the MANGO Eyewear collection launch party. We lounged by the pool, sipped champagne, and totally lived up to the theme of the party – Dolce Vita!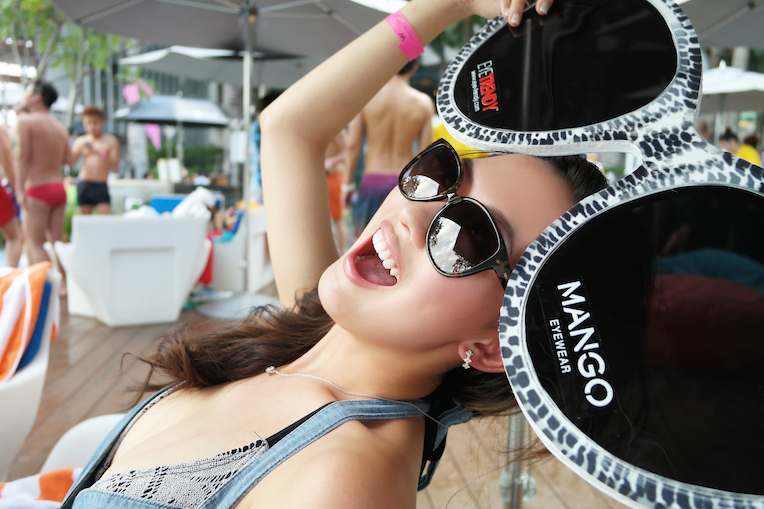 Not only did we try on sunglasses by MANGO, we also tried on some of the optical glasses that the brand featured at the party and I got a tortoiseshell pair myself. Tortoiseshell never goes out of style!
While it's usually quite difficult for me to find sunglasses and optical glasses that fit my face, this MANGO collection fit my Asian features perfectly! I also like that the sunglass frames were all very well made from high quality acetate. The optical glasses from MANGO are also launched in Singapore for the first time so definitely check the stylish frames out. Note that this collection is only available in optical retail shops!
So here are some photos of me in the pair of shades that I have chosen from the MANGO Eyewear collection. Like I said before, am a HUGE fan of tortoiseshell. A great classy pair of tortoiseshell, preferably slightly cat-eye, will take you from the gym to the Hamptons!
Love how it's classy, fun, and stylish all at the same time! And most importantly, always find a pair of shades that frame your face best. My face is oval and slightly round, so cat-eye works best for me.
Oval faces tend to go with anything, so lucky you if you're blessed with an oval face shape! Heart shaped faces (wide with a sharp chin) go well with cat-eye frames, and rounder faces do best with square frames and aviators. Square faces and stronger jaws can also be softened with rounder frames. Colour wise, black may be a common choice but don't discount tortoiseshell as a great neutral shade. Tortoiseshell generally goes with everything, and brighter colours are perfect to brighten up your outfit!
The pool party was loads of fun as always. Had so much fun (and too much champagne) with these two sweethearts.
Check out www.eye-trendy.com for MANGO's Eyewear collection today! Don't forget to also check them out on Instagram at @eyetrendysg and on Facebook here!