FRAUD ALERT
I have never been more disturbed about the existence of stalkers – Somebody has assumed my photographs for him/herself.
I was notified of this fraudulent Facebook account by a friendly email and it seems that this person is also selling merchandise and vanishing upon payment. This is plain unacceptable.
Here are some of his/her posts on Facebook.
This Facebook account has been active for a total of nine months and contains photos of me from as long as one and a half years ago, following me on my holidays and trips and then posting them around the same dates?!
Please DO NOT post a photo of my mother and call her yours.
And the most disturbing thing is that he/she interacts with people who comment as if he/she is really me.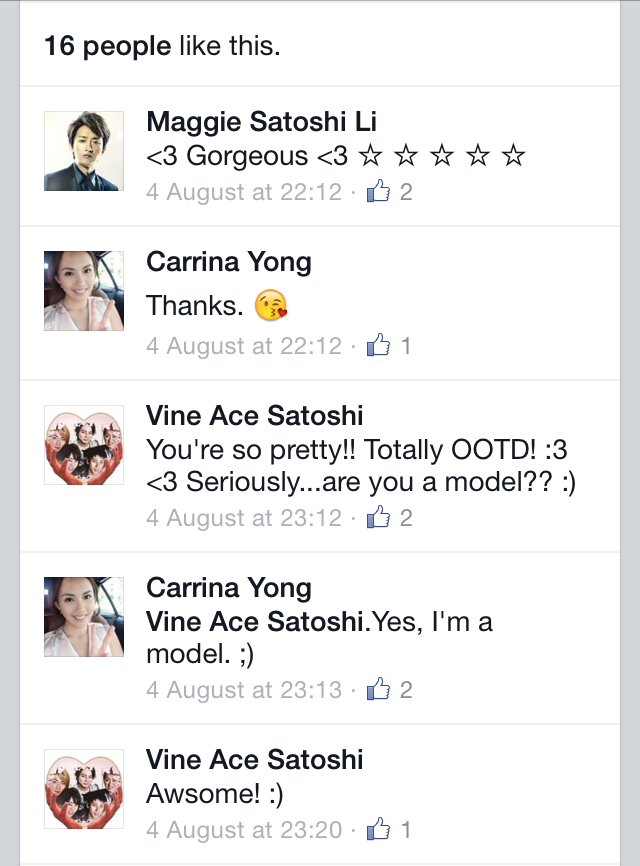 He/she also seems to only tag one person only, and the link to her Facebook profile is here. Whether or not Valerie Chew is Carrina Yong or just her friend, or simply another fake account, I do not know.
A simple search on Google and I uncovered the following.
Read the full post here.

Taken from this website.
I feel really bad for all the fans of Japanese Boyband Arashi who have been scammed by both Carrina Yong and her "friend" Valerie Chew of non-existent concert tickets.
Carrina Yong – If you are reading this, know that my mother has already advised me to make a police report since cheating is involved. And use your own photos in future. No class.