This is NOT a sponsored post, if that's what you're wondering!
While I've done a photoshoot for GuavaPass before (as a model), I was not paid in any way to write this post. I actually paid the full amount of $149 for GuavaPass this time round. Aside from Xtend Barre at Upside Motion, which I love by the way, I wanted to try out different types of workouts catered to preggos like me and hence I purchased GuavaPass for their yoga options and wide array of prenatal classes. Plus, I really want to stay fit throughout my pregnancy for health (and vanity) reasons!
I am documenting my prenatal fitness experience with GuavaPass here on my blog to share with any of you who might be interested in the kinds of workouts that you can do while you're pregnant. Would also love to hear your thoughts and personal experiences if there are any of you preggos out there reading this!
And if you're thinking of signing up for GuavaPass after reading this, do sign up using my link because it will take $40 off both your membership fee and mine for a month! Hehe, thank you in advance! I'm a sucker for referral programs and you should be too.
Click here for the rest of my blog posts relating to pregnancy!
Prenatal Yoga
AlphaBalance @ Tanderra
Probably a lot more amusing than I had imagined. Can you imagine a class of preggos who can barely balance on one leg or get up from lying positions?
Jokes aside, it was a really great experience. Very very relaxing, which was just what I needed and, not to mention, an absolute mood booster! The class was held at Tanderra, a family club located in the Loewen Cluster of Dempsey, hidden and nestled amongst the trees. Beautiful location! I mean, when was the last time you found yourself amongst so much green!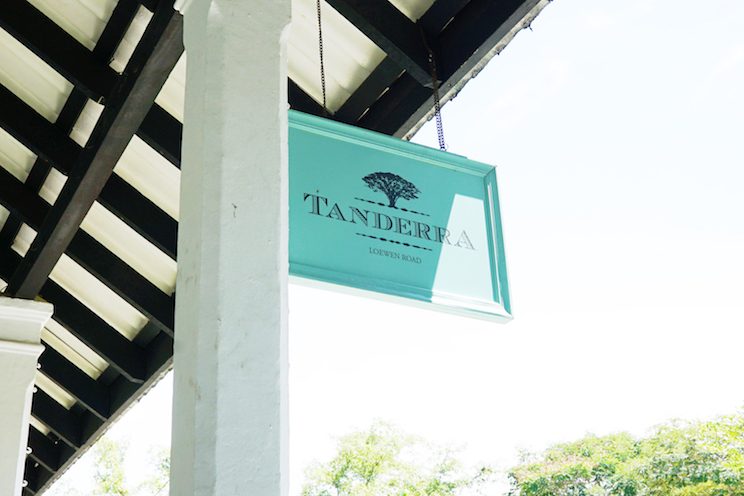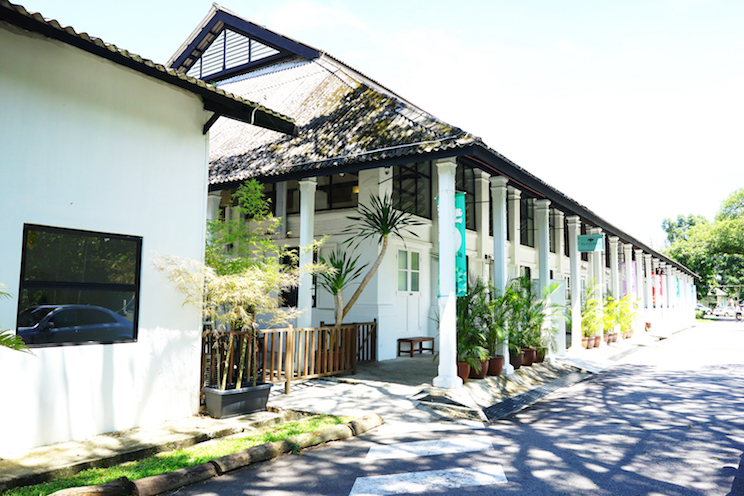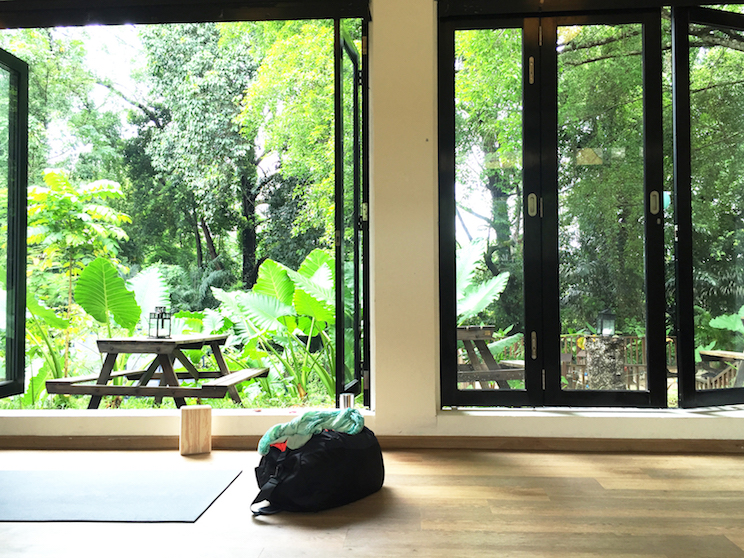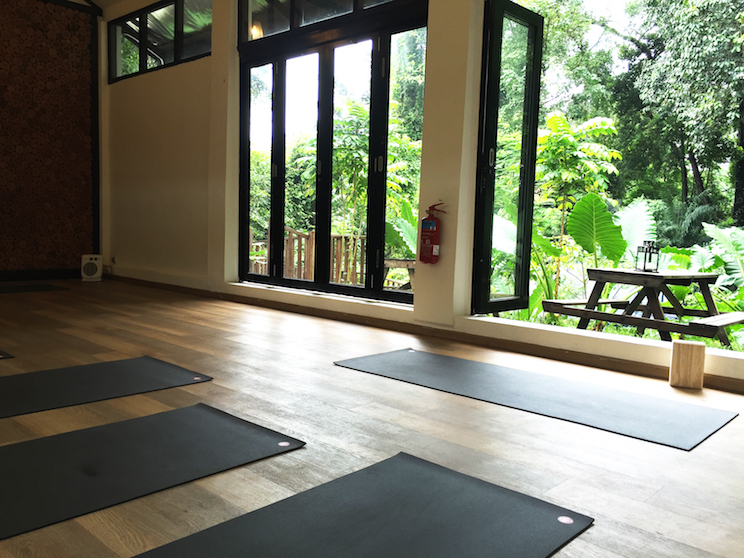 The instructor was very patient, soothing even, and helpfully adjusted our poses as we went along. There were only about 5 ladies in my class, which I thought was great! I definitely appreciated the smaller class size for it felt more intimate. The breathing exercises were wonderfully relaxing and the poses and pace of the class were enjoyably comfortable for us preggos. All in all, a very relaxing 75 minutes that I so very needed.
Aqua Signature
Aquaspin @ Tanderra
Another super fun class at Tanderra! I'm really starting to like this place! I mean, it's not far from our place and I can always head to any restaurant for a hearty brunch after class.
It was my first time trying out Aquaspin and I made it a point to notify our instructor, Lex, before class that I am five months pregnant. He was really reassuring, which helped, and told me to lay off the ab exercises. He even demonstrated some other moves that I can do while the others worked on their abs.
I parked right in front of Tanderra and found my way to the pool down this quaint little path.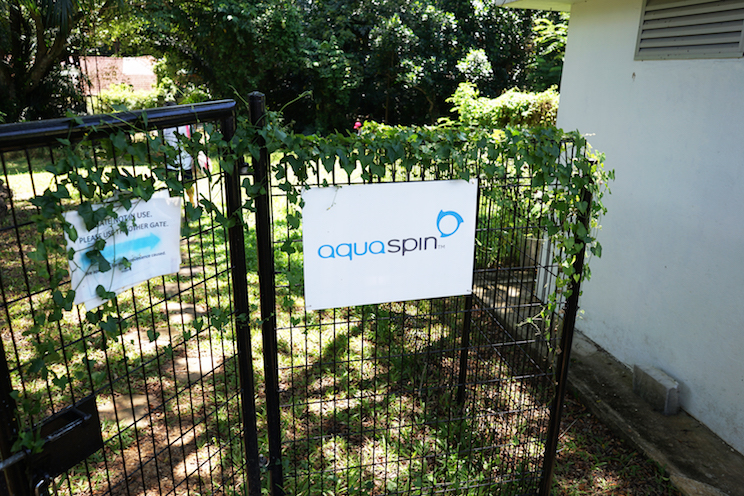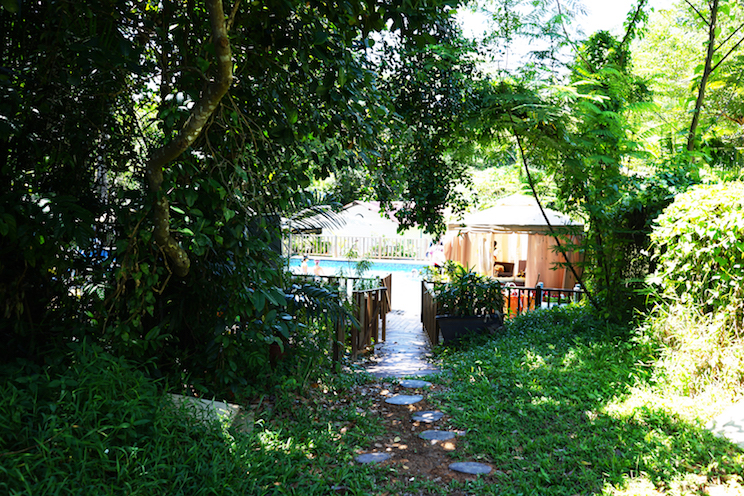 I mean, who even knew this little pool existed! I quite like that the pool is hidden. Gives this preggo a little privacy while she tootles around in her bikini!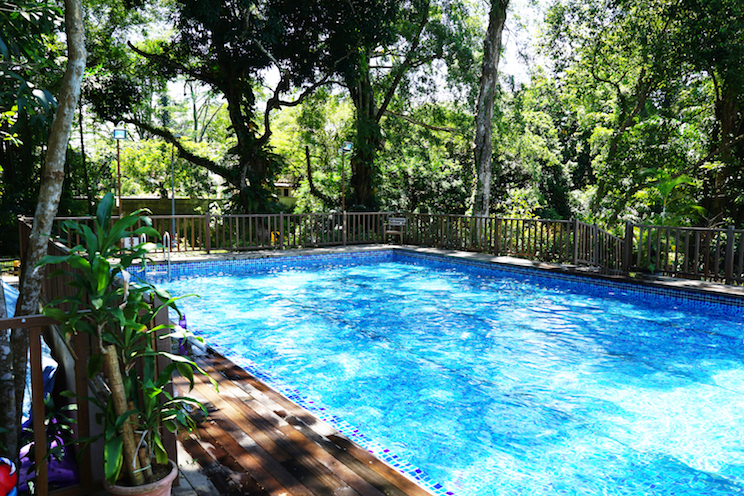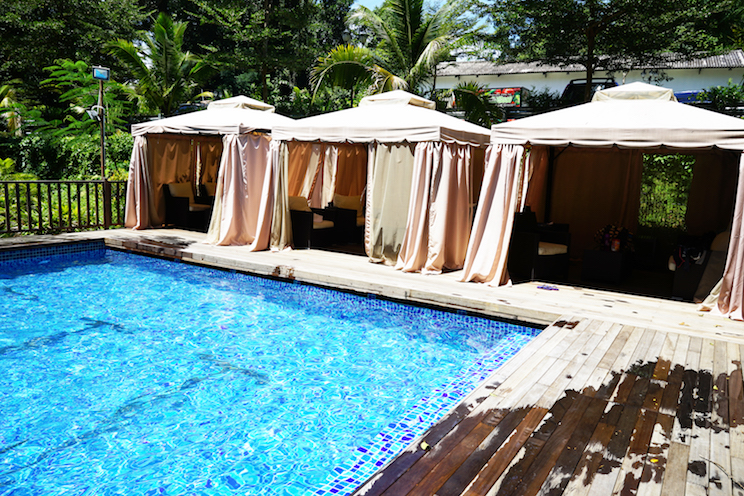 And little tents for me stay in the shade while waiting for the class to start! Also, for me to put my bag so my lip balm doesn't melt into a pool of disgusting.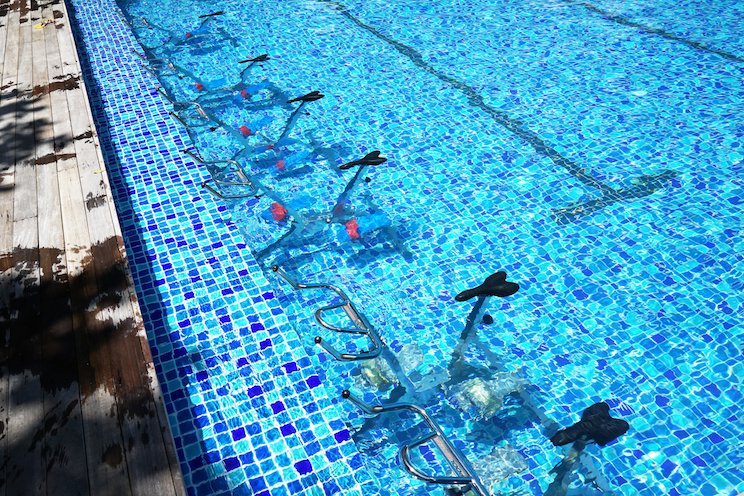 There they are!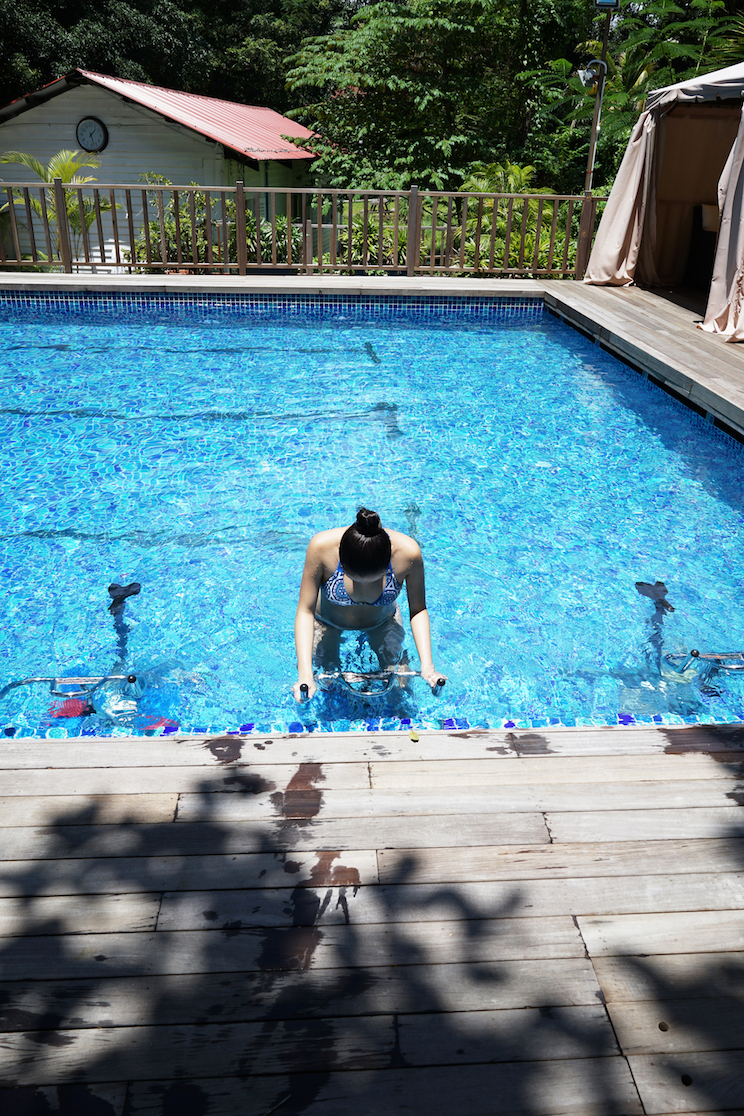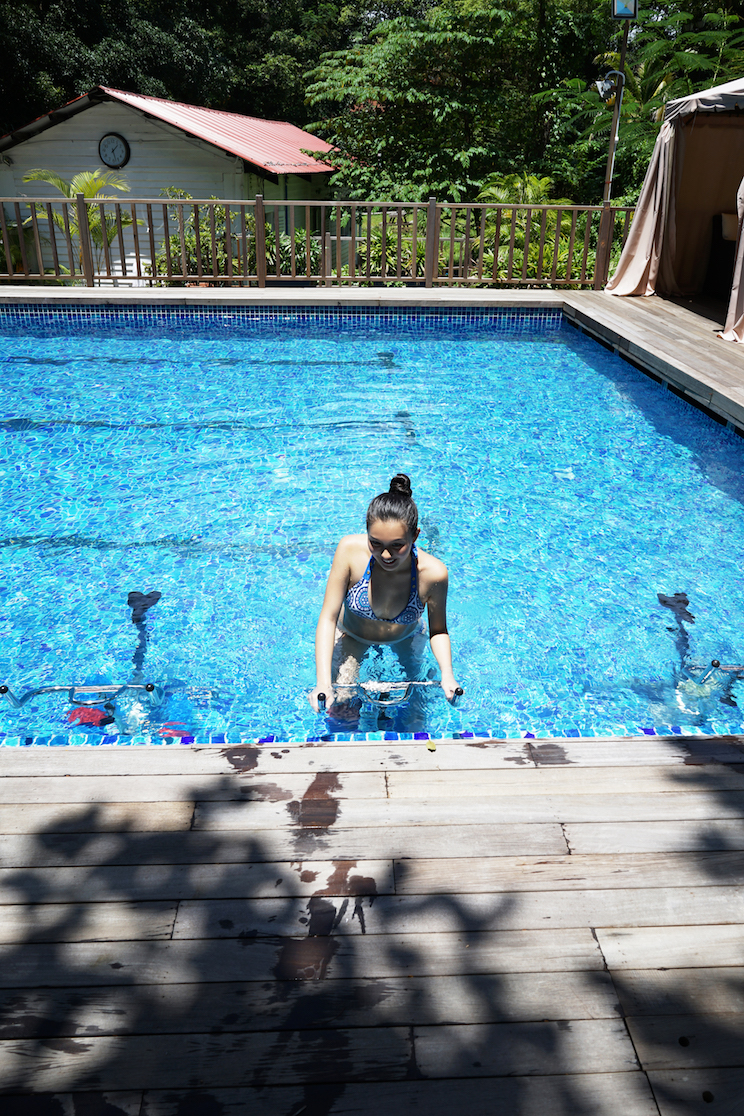 Took these (pretend) photos after the class concluded, haha! Because it would be disrupting to take the photos during the lesson, yes?
If you've ever been to CruCycle, Aquaspin is a lot like regular spin class! Except, underwater, of course. Instead of the usual resistance that you can adjust on spin bikes, water acts as a natural resistance while you work out. Plus, the water keeps the body cool, because God knows preggos aren't supposed to overheat. Overheating actually brings the blood to the surface of your skin to cool your body down and that means away from your womb and growing baby. So yes, Aquaspin sounds like perfect prenatal cardio alternative.
Is Aquaspin too intense as a pregnancy workout? I did not feel that it was.
I think it's definitely important to let your instructor know before your class begins that you are pregnant, so that he or she wouldn't push you too hard if you don't feel like it. I personally felt that the pace of the class was not unreasonable, despite being pregnant, and that being underwater reduced most of the impact that you might experience if you were attending a regular spin class. The most amazing thing is that while I did not feel particular worn out from the class, my muscles definitely ached afterwards.
I definitely enjoyed the class and our instructor and cheerleader, Lex, who cheered us on throughout the 45 minutes!
Evening Flow
AlphaBalance @ Shangri-La Hotel
Right off the bat I'd say that this class isn't 100% suitable for pregnant women!
I know yoga is supposed to be low intensity and all but there are just things that we preggos can't do! Like balance on one foot, lie on our tummies, touch our toes, use our core, stretch backwards, etc. And almost half of this class comprised of that. The great thing, though, is that the instructor was really understanding and let me work at my own pace. She also wouldn't push anyone and asked us to listen to our body and do what is comfortable for us. While I enjoyed the relaxing session, I would have definitely enjoyed it much better if I wasn't pregnant. But then again, this wasn't a class specifically for pregnant women!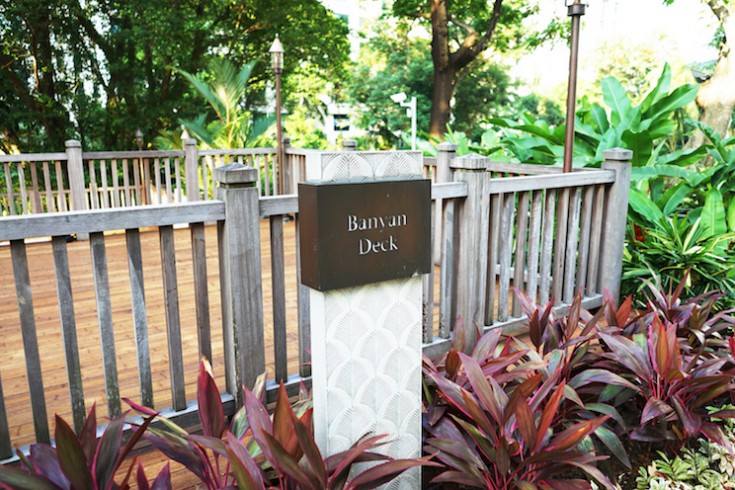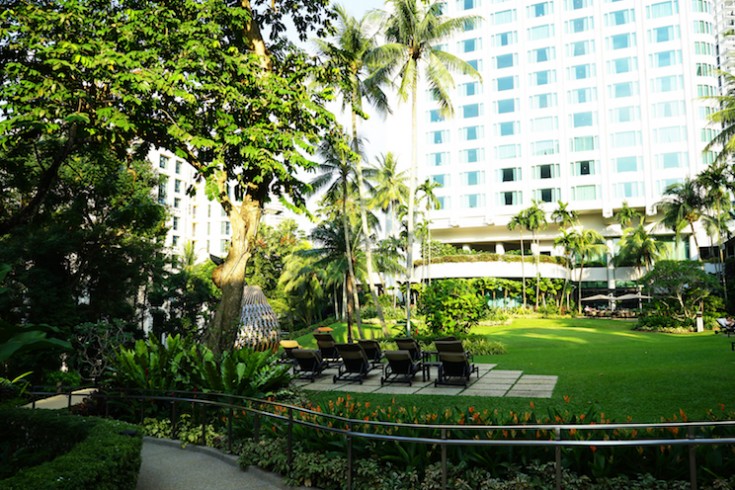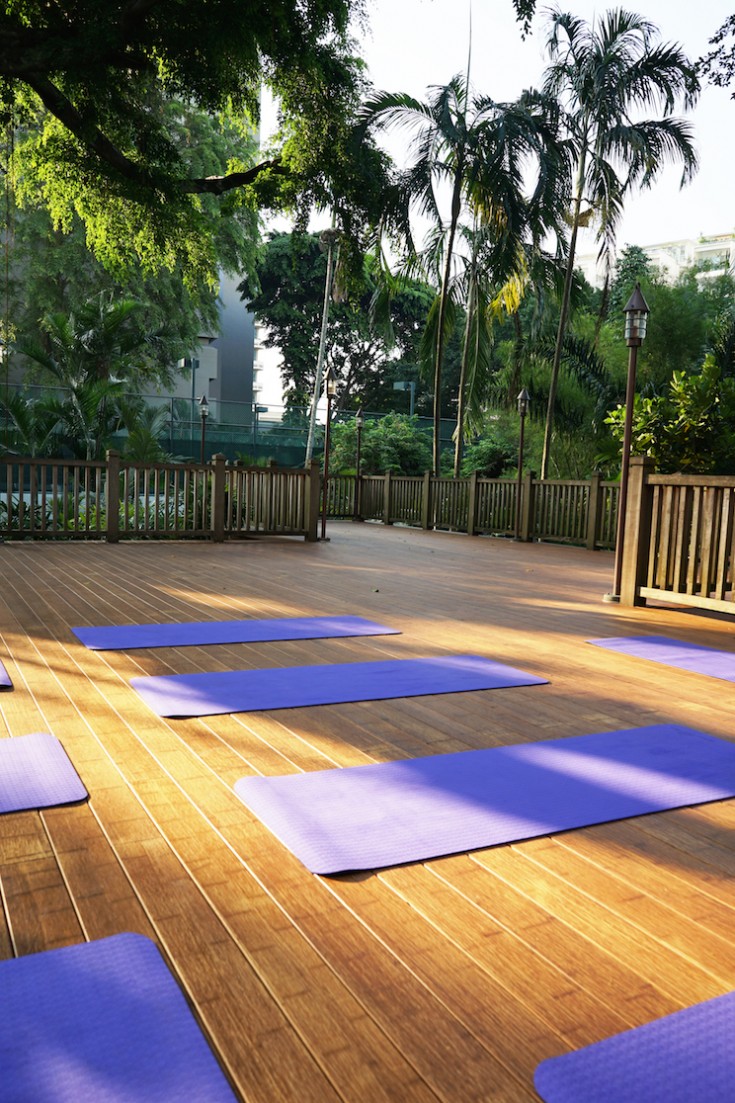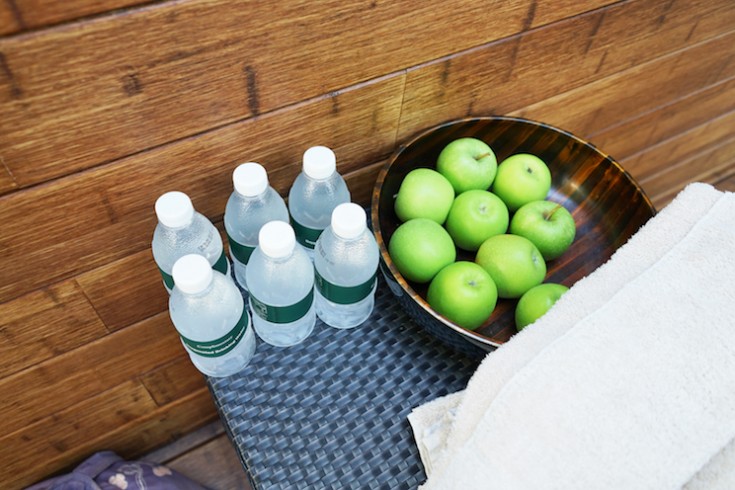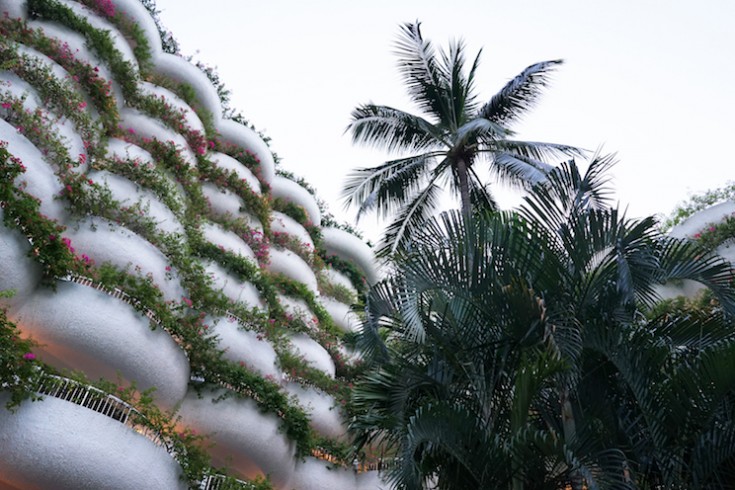 The location was amazing though. Imagine being surrounded by happy squirrels and chirping birds while practising yoga. This was exactly that, plus the occasional mosquito. Shangri-La was also very accommodating and provided fresh towels, bottled water, and green apples for all of us! Only downside was the parking, which cost me $16!
If you already are into yoga and are great at it then by all means attend this class while you're pregnant! But if you're a novice like me, then I wouldn't recommend this class while you're pregnant. It's perfect and relaxing for anybody, as long as you're not sporting a growing bump!
Click here for the rest of my blog posts relating to pregnancy!
I hope to add more to my prenatal fitness journey here on my blog so watch this space, and thank you for reading my post!