Are you doing tummy time, mommy?
I first came across the BodyBoss method on their Instagram page and thought – only 24 minutes, 3 times a week? Perfect for this busy mommy!
The BodyBoss method – Ultimate Body Fitness Guide, is basically a 12 week step-by-step workout program that requires only a little more than 24 minutes from you, 3 times a week! It promises to rapidly burn fats with HIIT circuits, with NO gym/equipment needed.
Let's put it to the test!
My Expectations
For any mom, the BodyBoss method sounds like a godsend. Squeezing in a workout during naptime plus I can do this workout right at home? I have to put this to the test! After childbirth, I had worked very hard to lose the pregnancy weight and managed to lose it all up until the wedding. But of course, the post-wedding binge gained me 4 kilos and a little food baby! It's not so much about the weight gain but more of wanting to keep myself trim in general. So, my goal by the end of this 12 week program was to lose the honeymoon tummy! 16 weeks if you include the pre-training program.
4 Week Pre-Training Program
The BodyBoss method includes a 4 week pre-training program for those who are not (technically) active. Sure, I work out. But it had been 3 months since the wedding and also since I last picked up my trainer's call. Don't judge me! So I started with the pre-training program.
This is me at 59kg, 4kg more than my ideal, and my little honeymoon tummy.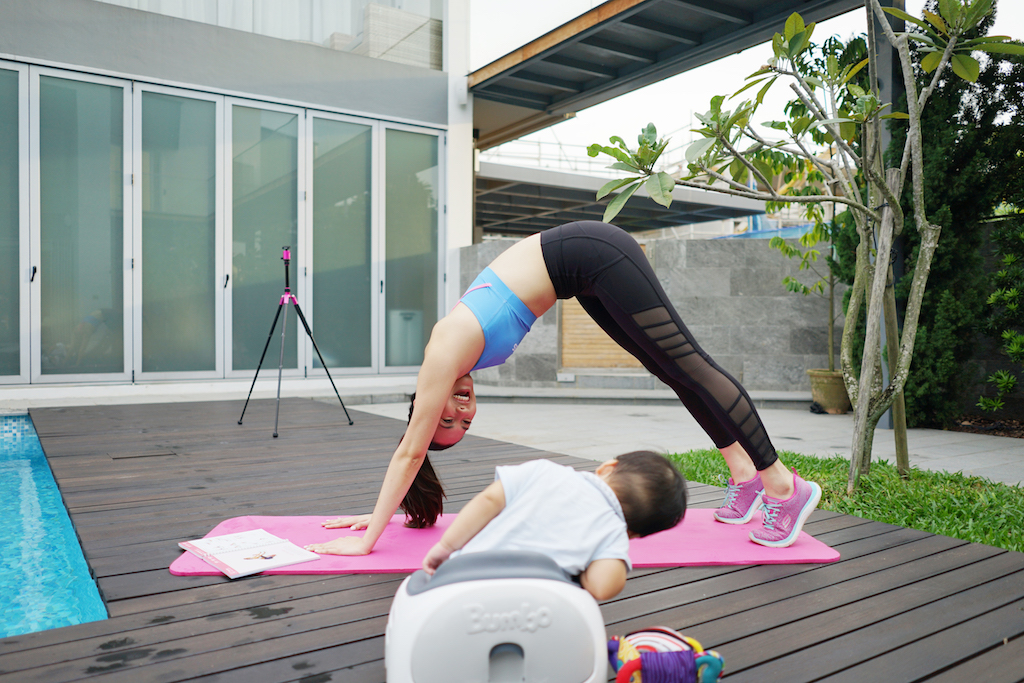 Working out with my baby having fun next to me was such a great experience! He loves watching me count my reps. Plus, it feels like I'm teaching him to count at the same time! I lay a few toys around him and he seems so entertained and intrigued by whatever he thinks mommy is doing. And when he gets a little restless, I simply pick him up as my 13kg weight!
The pre-training program was a nice inclusion to the book and really helped ease me into the workout.
It's 16 weeks later – 4 weeks of pre-training and 12 weeks of the BodyBoss method.
I'm 4 kilos down at 55kg, and my baby has gone from sitting in his Bumbo seat to crawling and then walking!! We've all made progress! Yay!
I'm definitely looking and feeling leaner, and MUCH stronger. Coupled with our walks to the Botanic Gardens on recovery days, I'm feeling so much lighter and finally fitting into my pre-pregnancy mini-dresses!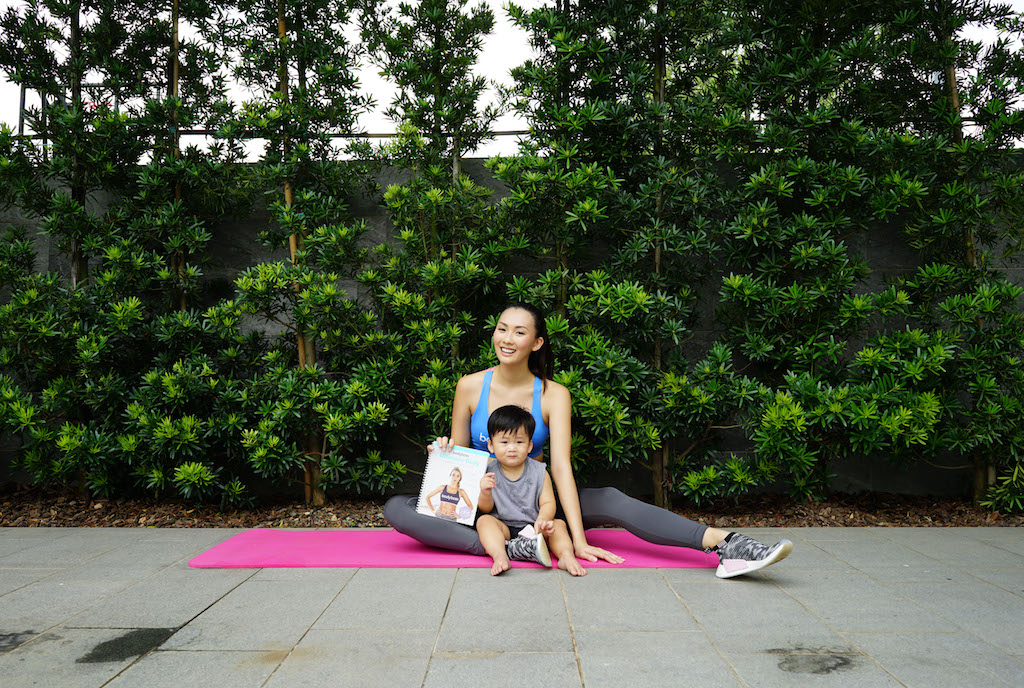 Happy bubby and me after 12 weeks of BodyBoss! (At least I think that's what that face is.)
It's been a great journey with BodyBoss and I think I'll be doing it again and again! I could really start seeing the results only 2-3 weeks into the BodyBoss method and boy am I glad that honeymoon food baby is gone. I can only say that for all you busy mommies out there, this is the perfect workout for you. I can do this with my baby, or just outside his room during naptime. It's perfect!
There is an online version, and a package which also includes the 200 page booklet. Check it out on www.bodyboss.com!