And then it was time. Liam's birth definitely caught me by surprise at 36+ weeks! Where shall I begin…
Friday
I think it all started when I fell in the bathroom on Friday night. Slippery bathroom floors and off-balanced pregnant whales do not make a good birth story, just so you know! It just happened and I simply slipped and landed on my side. Thankfully not on my tummy! I was pretty sure I pulled a ligament or something though, because I had difficulty walking after. Didn't help that I was already feeling like a whale waddling around…
Saturday
It was still hard to walk around on Saturday and so we decided to get it checked out that night. Since my doctor was on holiday, we headed to the A&E at a nearby hospital (not Mount Elizabeth Novena) after dinner. I was transferred to the labour ward upon arriving because I was over 20+ weeks pregnant, which was their policy.
Upon checking in, they hooked me up to their monitors and said they were going to observe me for an hour or so. LL wasn't allowed in so I was all by myself with about five other ladies in the labour ward. The AC wasn't working and it was getting warm and uncomfortable and all I was thinking was "Please don't come out tonight!". I really expected just a simple check up and for the doctor to tell me everything was fine and then go home!
They found a dip in the heart rate and even though it seemed like quite the anomaly, the doctor on duty told me that they may have to perform an emergency c-section tonight. No way!! This wasn't even my doctor, or my hospital! I mean, I know that you can never really be prepared, but I really didn't want it to happen this way and here in this random hospital! Ever since my maternity tour of Mount Elizabeth Novena I was actually looking forward to my delivery and stay at my penthouse suite! Okay I get it an emergency is an emergency and my baby's safety should always come first but I can hope for as comfortable a birth as possible in a familiar environment right?
In the end, it was more or less a false alarm and I was allowed to go home. I was warned, however, that my contractions seem to have started. I didn't feel them yet though, strangely enough.
Sunday
Come morning I felt some cramps similar to period pains. Were they contractions? How was I supposed to know what contractions feel like anyway since I've never experienced them! I downloaded an app for timing contractions anyway.
Slept through most of Sunday afternoon and it seemed like the contractions (or cramps) were kinda irregular anyway so I didn't think too much of it. The cramps just came and went as and when and felt exactly like period cramps. I thought perhaps they were Braxton Hicks.
Until about 5pm when my mom came over then they started to feel somewhat regular. I would get a crampy feeling every 10 minutes, but the cramps were not painful. Not even bothersome. They were just… there. This went on until after dinner and until my mom went home. At about 1 am, they started getting regular enough for me to pay attention. They still felt like mild menstrual cramps but I thought that if this was it then I should be heading to the hospital just to be safe!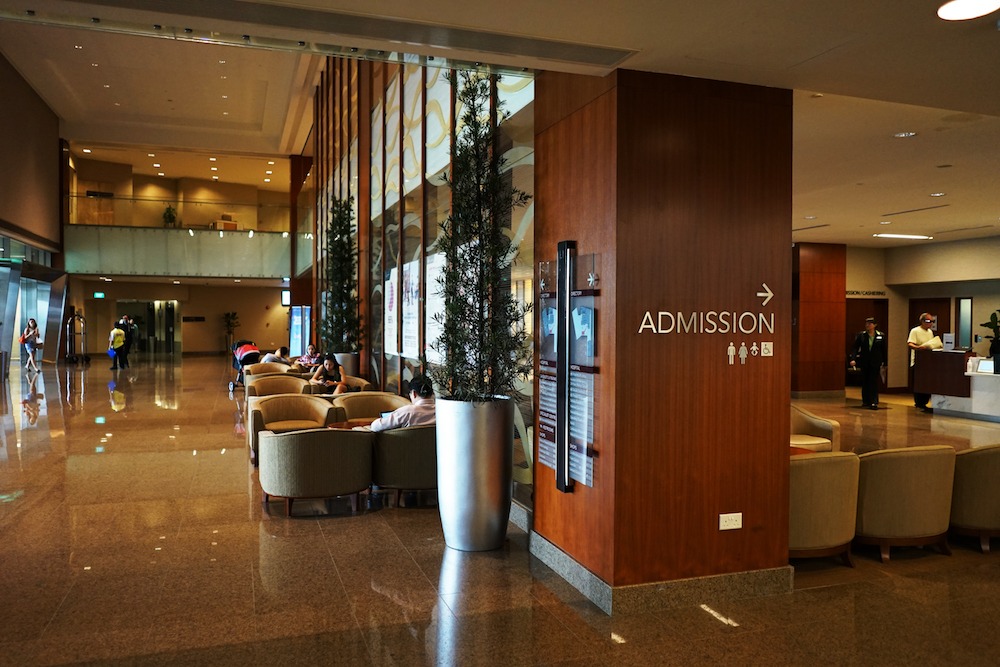 We arrived at the hospital with our bags in tow a little past 1am and the A&E at Mount Elizabeth Novena ushered us to the delivery suite. There, I got changed and the midwife hooked me up to the monitors and checked if I was dilated. She said I was 1cm dilated but said I wasn't ready since the contractions weren't strong enough. I was sent home soon after.
Monday
I could barely sleep after getting home as the contractions were really getting stronger now. But I was super tired since it was already very late at night and hence drifted in and out of sleep with the cramps still going on. At about 5am, I couldn't sleep anymore and it was getting to be quite painful. I woke LL up and he said to wait a little while to see if they get any stronger. His idea of going into labour is a sweaty woman screaming in pain and since I wasn't anywhere near that, he simply assumed that I was fine. Fair enough, I took a shower and walked around the house to see if they were getting any worse and they seemed to be but I wasn't 100& sure. At about 6am I figured I'd rather be safe than sorry and woke LL up to go to the hospital. Of course, he was deep in slumber and slurring something along the lines of "Are you really sure this time?" And to which I replied "Take me or I'll take the cab!" That definitely woke him up, haha!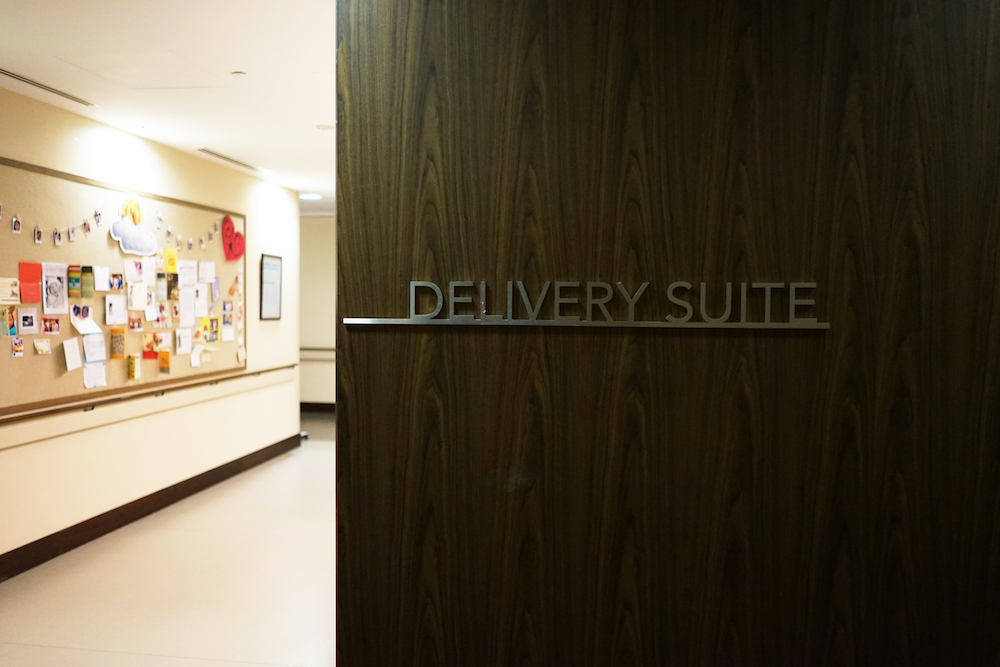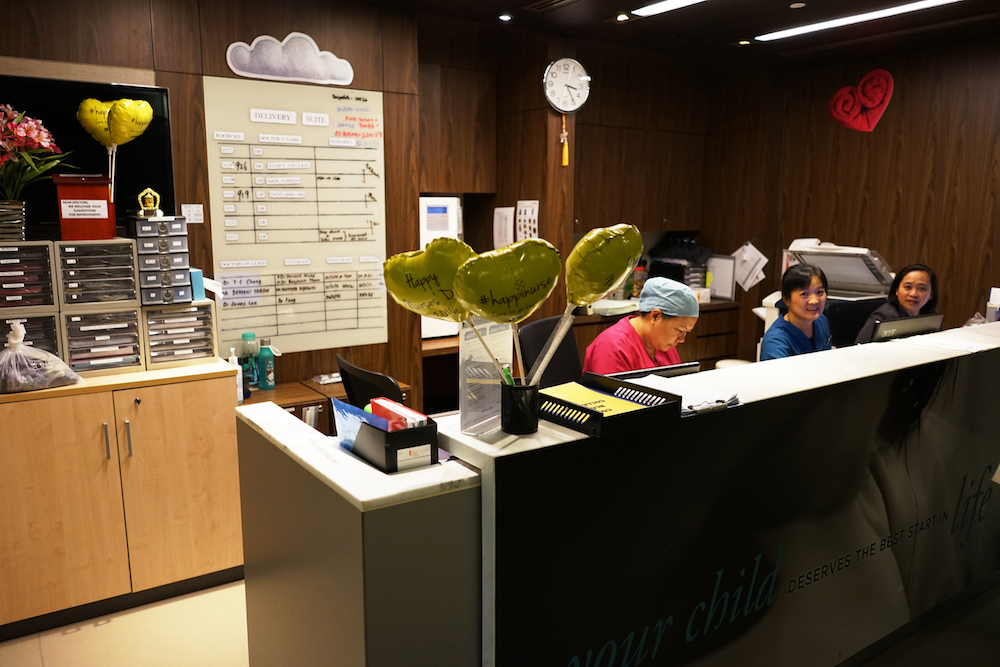 So I was back at the hospital A&E with the same nurses still on duty. They very patiently assessed my situation and ushered me back up to the delivery suite. It was my first time giving birth and how was I supposed to know if I'm in labour right? I still wasn't exactly sweaty, swearing, and swollen like the movies but I just knew. Call it instinct, but I knew my baby was coming out today!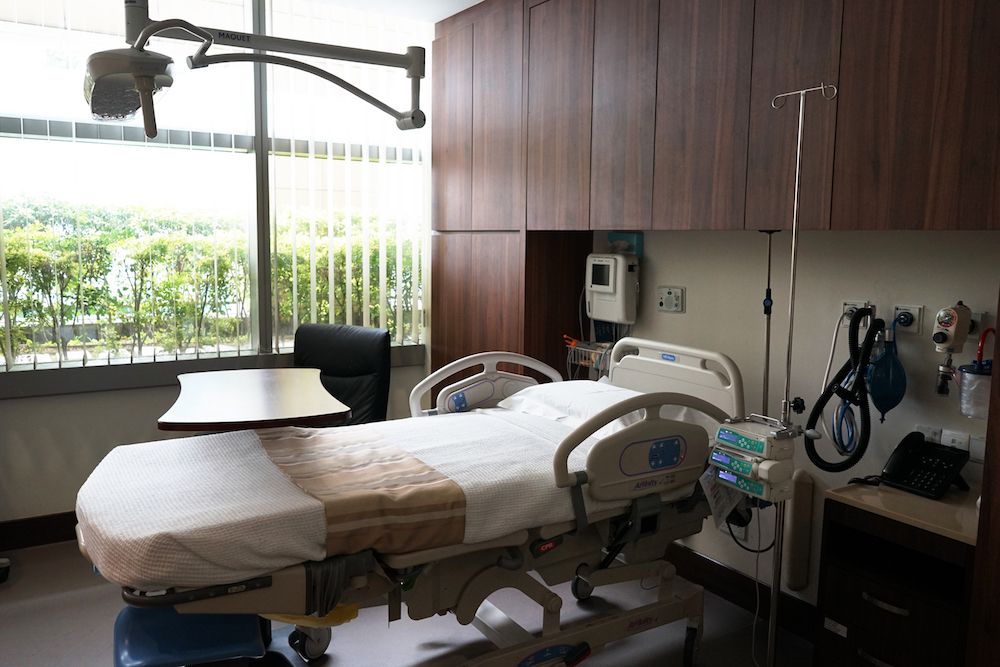 So here we were in our delivery suite and by 7am I was changed and hooked up to the monitors and examined. I was apparently 3cm dilated and the nurses asked me if I wanted an epidural. I knew the pain was just going to get stronger from here on and so I decided to take the epidural right from the start. The replacement doctor came in to check on me and though she's a lot more stern than Dr Choo, I felt comfortable with her and happy that I was going to give birth at Mount Elizabeth Novena as planned. I expected a short labour since my mother gave birth to me in four hours and my younger sister in just two, but I guess not everything is what you think it's going to be!
Did the epidural hurt?
No. I was given the choice of being put on laughing gas for the insertion of the catheter for the epidural and I took it. For the whole of my pregnancy I was super careful about drugs and chemicals but I turned into a complete wimp when the contractions really started to hit me. And so I chose to be put on laughing gas for the insertion and I didn't feel a thing. Perhaps a slight pinch where the catheter was inserted but that's about it. The epidural takes roughly another 10-15 minutes to take effect and I was numb from the waist down. Quite a scary feeling but the nurses were just so helpful and supportive I just felt like I could trust them with everything.
Were there any side effects?
Yes. After the epidural, I felt extremely nauseous and though I was hungry I couldn't keep anything down. I tried eating but I just threw it up almost immediately. I managed to keep down a few sips a hot milo here and there though. For some people it's nausea, and then for some it's the shivers.
It felt like time was passing so slowly in the delivery suite. I even took a selfie!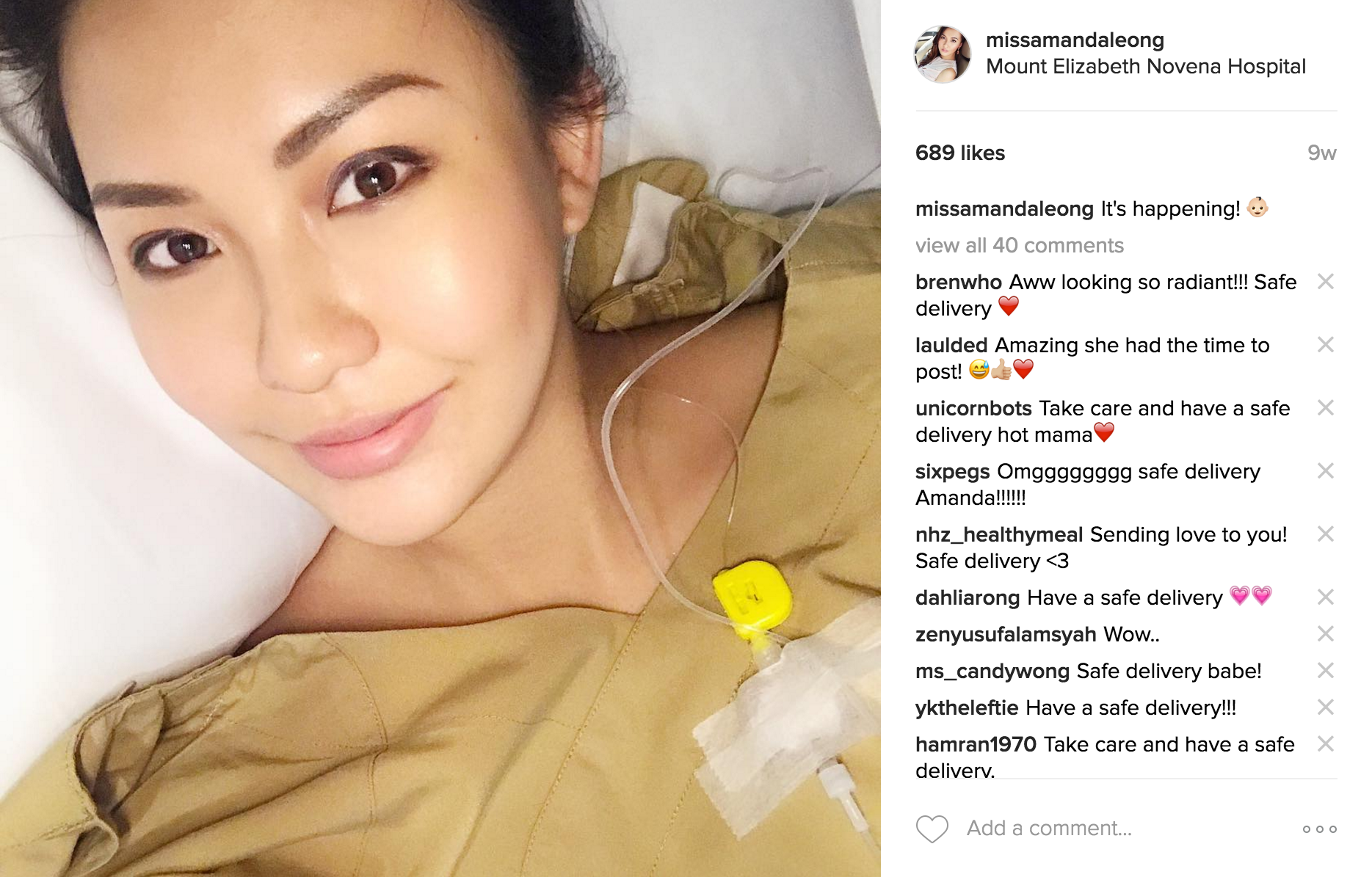 How long was labour?
From the time I checked into the hospital to the time he was born, a good 17 hours!
And this was me close to the end of it all…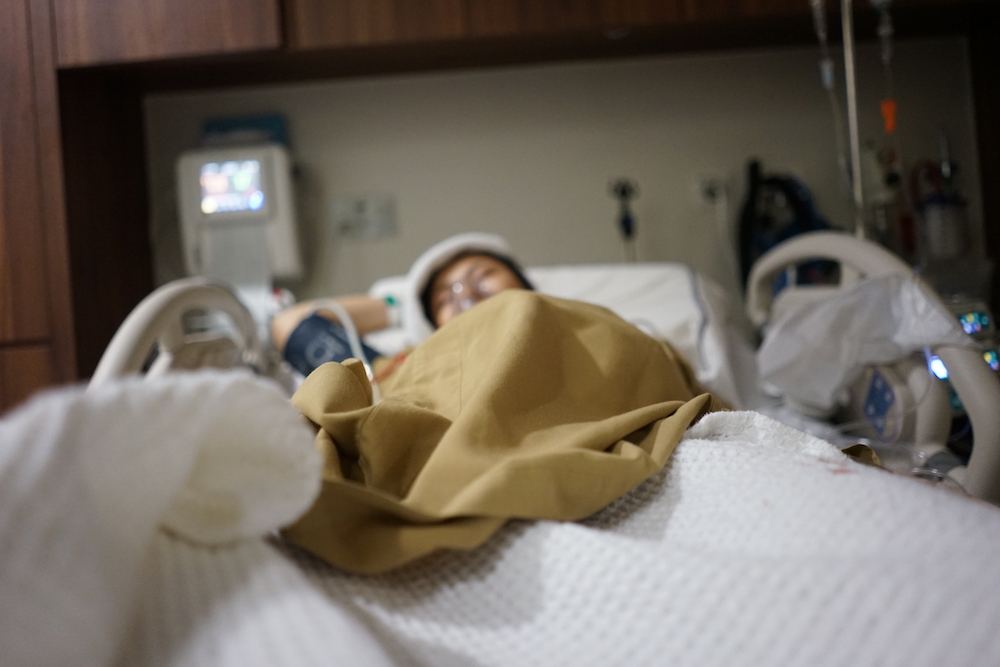 Not my most glamourous moment!!
In case you don't know, which I didn't, the average woman in labour dilates about 1cm per hour and you only start pushing when you reach 10cm. Another seven hours for me then! How wrong. 12 hours later it was 7pm and I was only 5cm dilated! That was when my replacement doctor came in and we decided to speed it up with some oxytocin.
I was already hooked onto fetal monitors that showed my baby's heart rate and more so despite the long labour process and discomfort, I was very much at ease knowing that the nurses were keeping watch on the monitors from their work desk outside even though they weren't in the room at all times.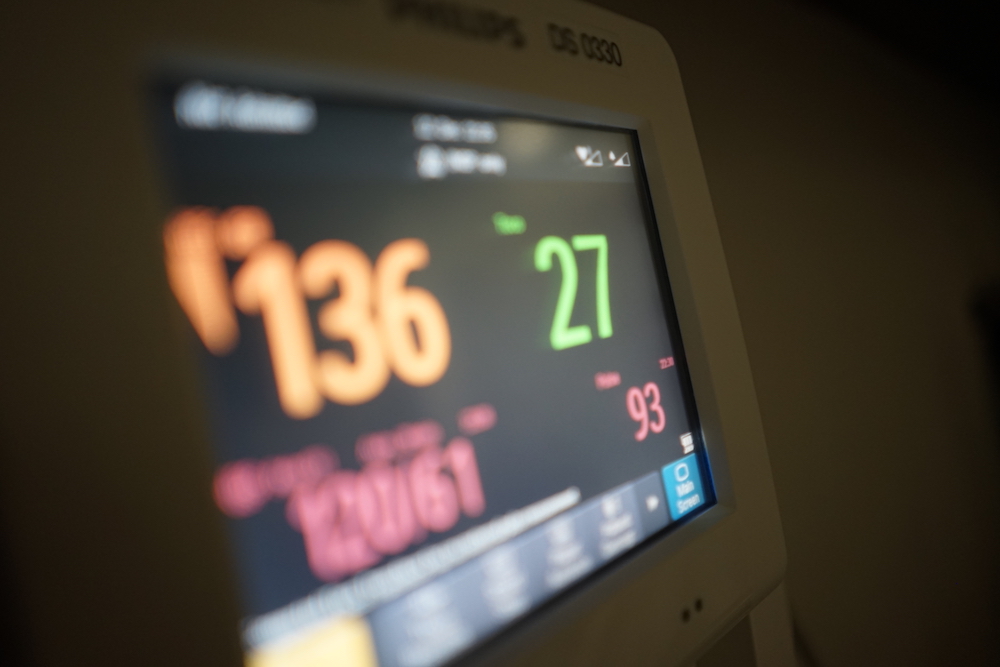 That's my little squishy's heart rate on the left, and my contractions on the right. The higher the number in green, the stronger the contractions! Not that I could feel anything since I got the epidural anyway…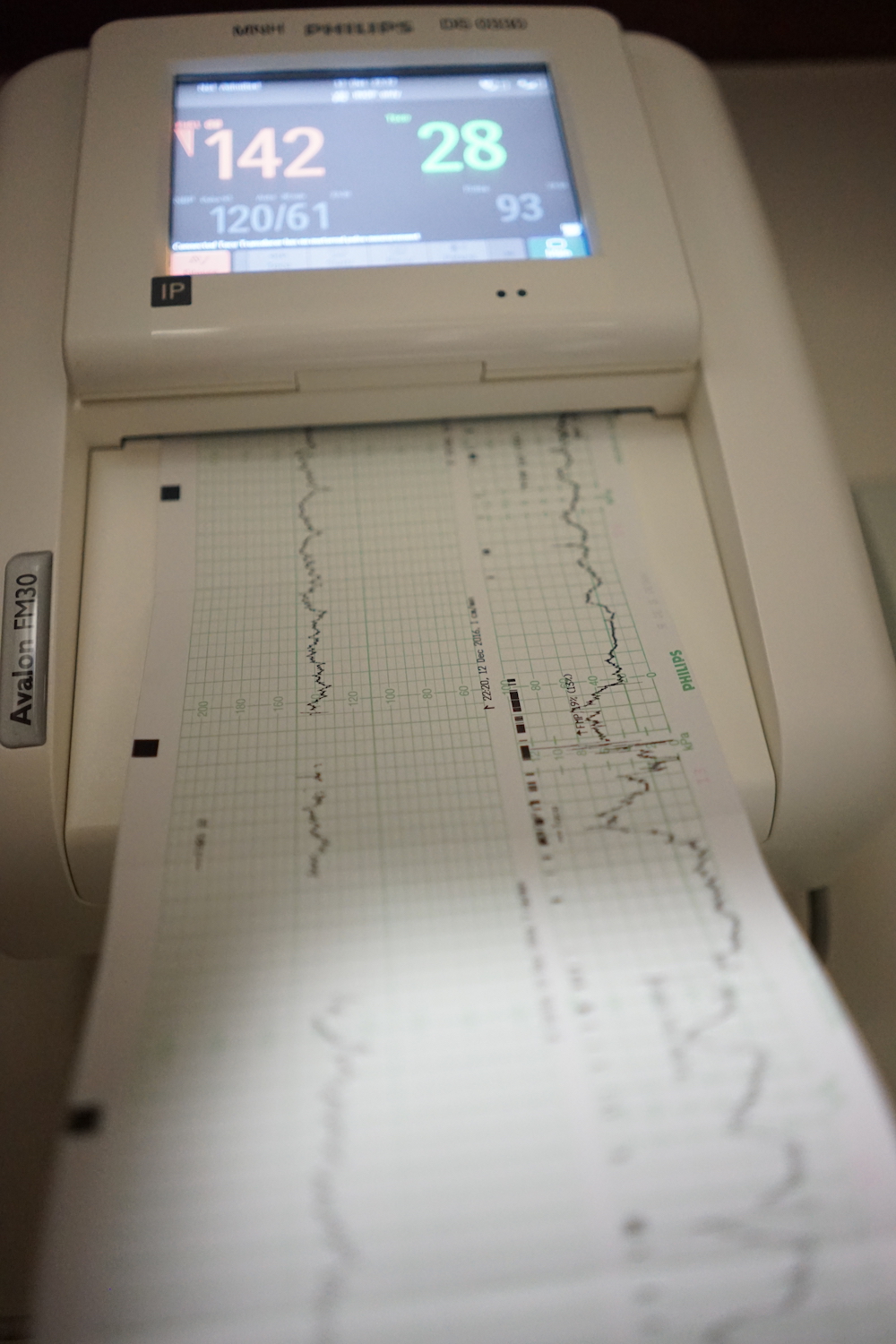 Still, I was extremely exhausted and starting to worry. It wasn't all that uncomfortable or anything and I was mostly just scared because I didn't know what to expect. Also, hours and hours of being in that position just wore me down physically and mentally. So thankful that LL was there for me and held my hand through all of it. The nurses at Mount Elizabeth Novena were also nothing short of absolutely wonderful. They responded to my every call within seconds, and were always there to answer my every query and calm my nerves. I wouldn't have wanted it any other way.
Finally, it was 11pm and I was about 9cm dilated for a while now. I just thought to myself how nice it would be if he was born today before midnight since 12/12 was such a nice number! Finally, my replacement doctor came in at 11.30pm and we were ready to push!
And just 10 minutes later, my little squishy was born.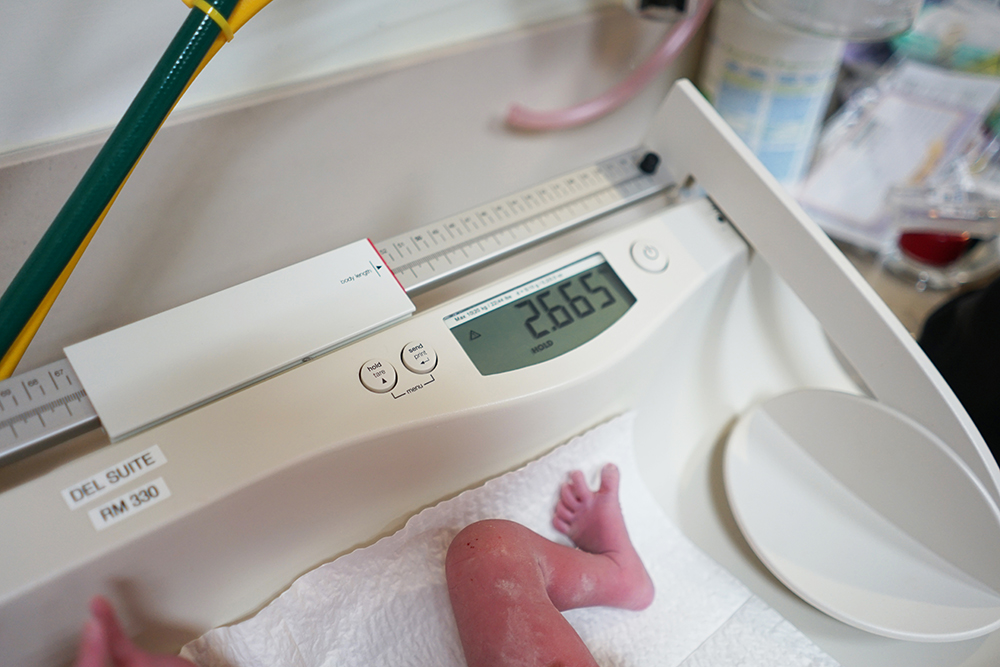 It was so surreal. I was truly meeting my son for the very first time. He came out with a little cone head and slightly pink, covered in white mucus. And he was ours!
The nurses quickly wiped him and placed him on my bare chest right after the paediatrician was done with him, just as I had asked for in my birth plan. The nurse then encouraged me to let him suckle just in case I was producing colostrum already. They then packed up and left the room promptly to give us some privacy. It's all pretty foggy but I think we just stared and stared at him.
Did it hurt?
Not one bit. The epidural numbed me from the waist down so it didn't hurt one bit. Not kidding. I could feel something, but there wasn't any pain at all. You know how you can feel the dentist poking around your mouth but you can't feel pain? It was something like that. Very unfortunately, I had to have an episiotomy and I could feel the doctor stitching me up after. It didn't hurt like the rest of it but I could feel the stitches pulling through my skin. What a strange feeling! I've since taken a few peeks and it looks pretty much the same!
After our little family time, the nurses wheeled me to our penthouse suite and baby to the nursery. They actually asked me if I wanted the baby with me in the room but I was so exhausted by then that I said to bring him to the nursery first. You'd think that you would miss your newly born little bundle of joy being separated so soon after birth but I think it took me a good day and a half before I registered that I had given birth, haha! I've never had to miss him because he was always inside of me. It's just the strangest!
Talking about the penthouse suite, it was nothing short of absolutely luxurious. Kind of takes the edge away and tricks you into thinking you're on vacation!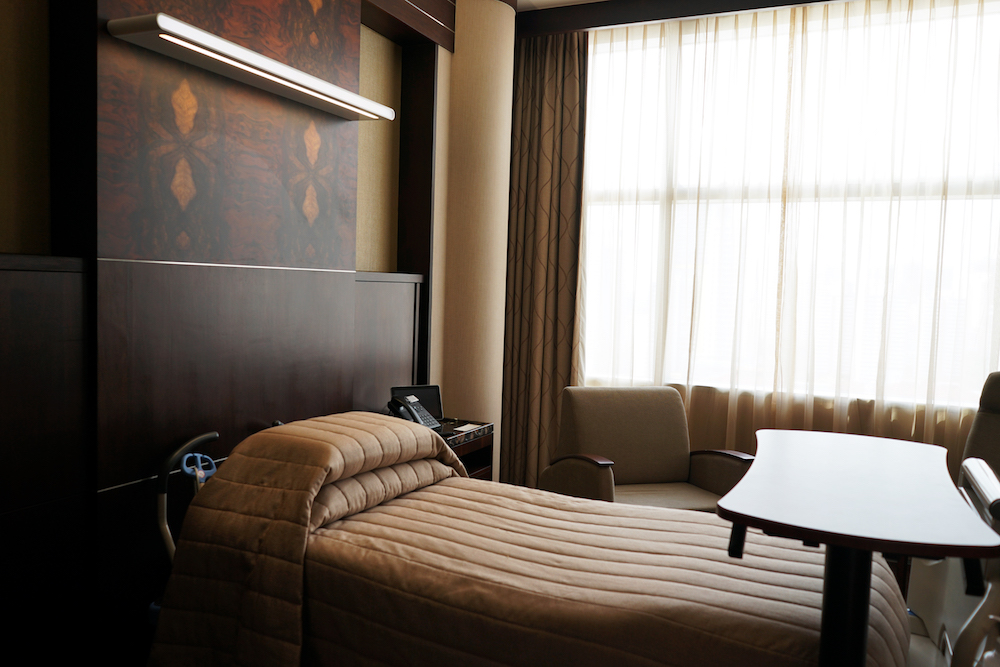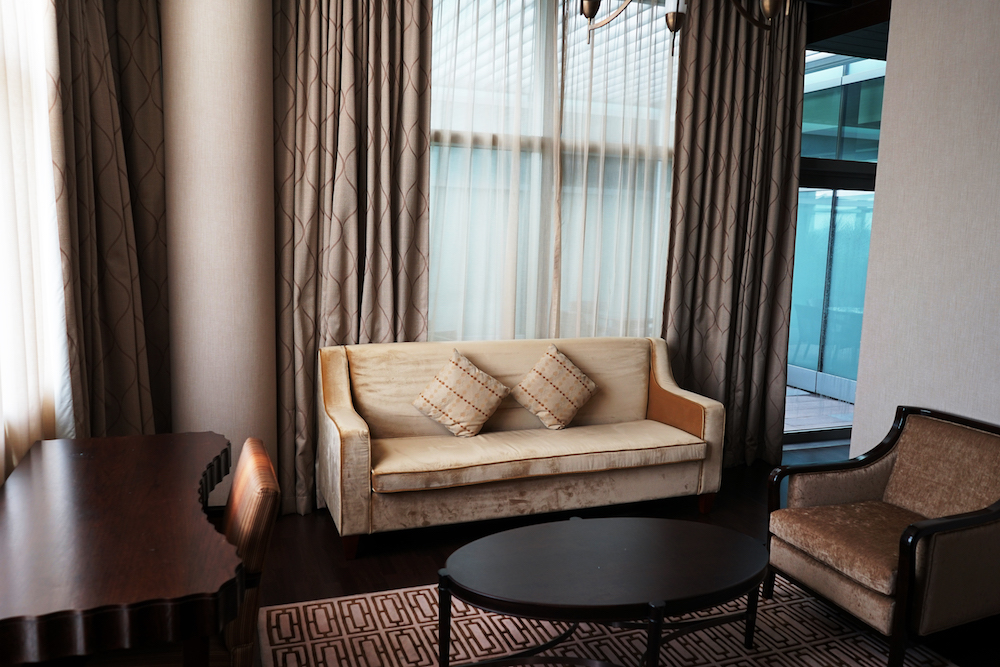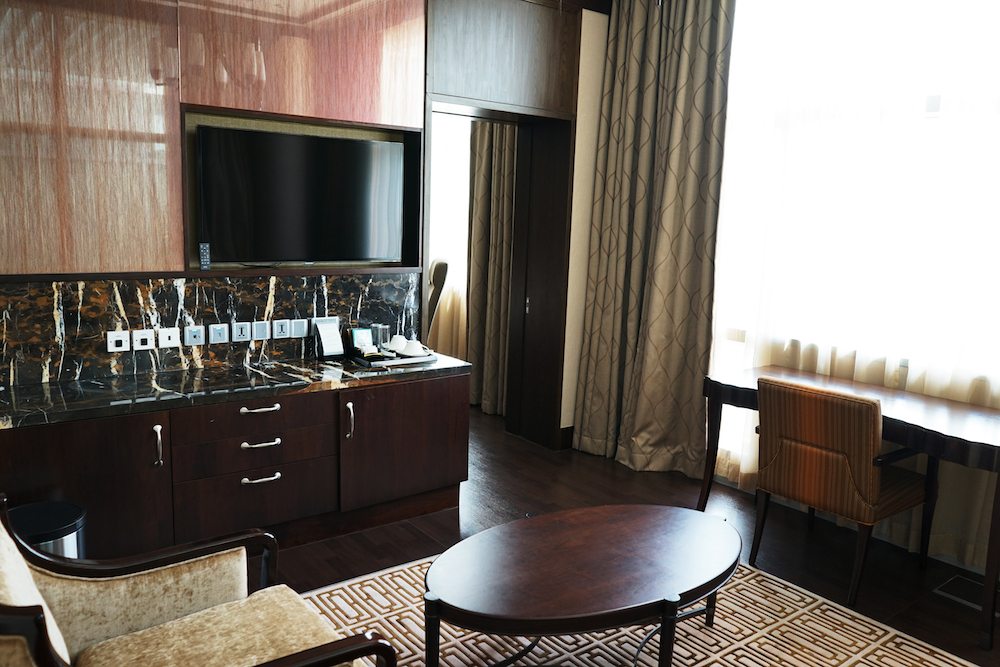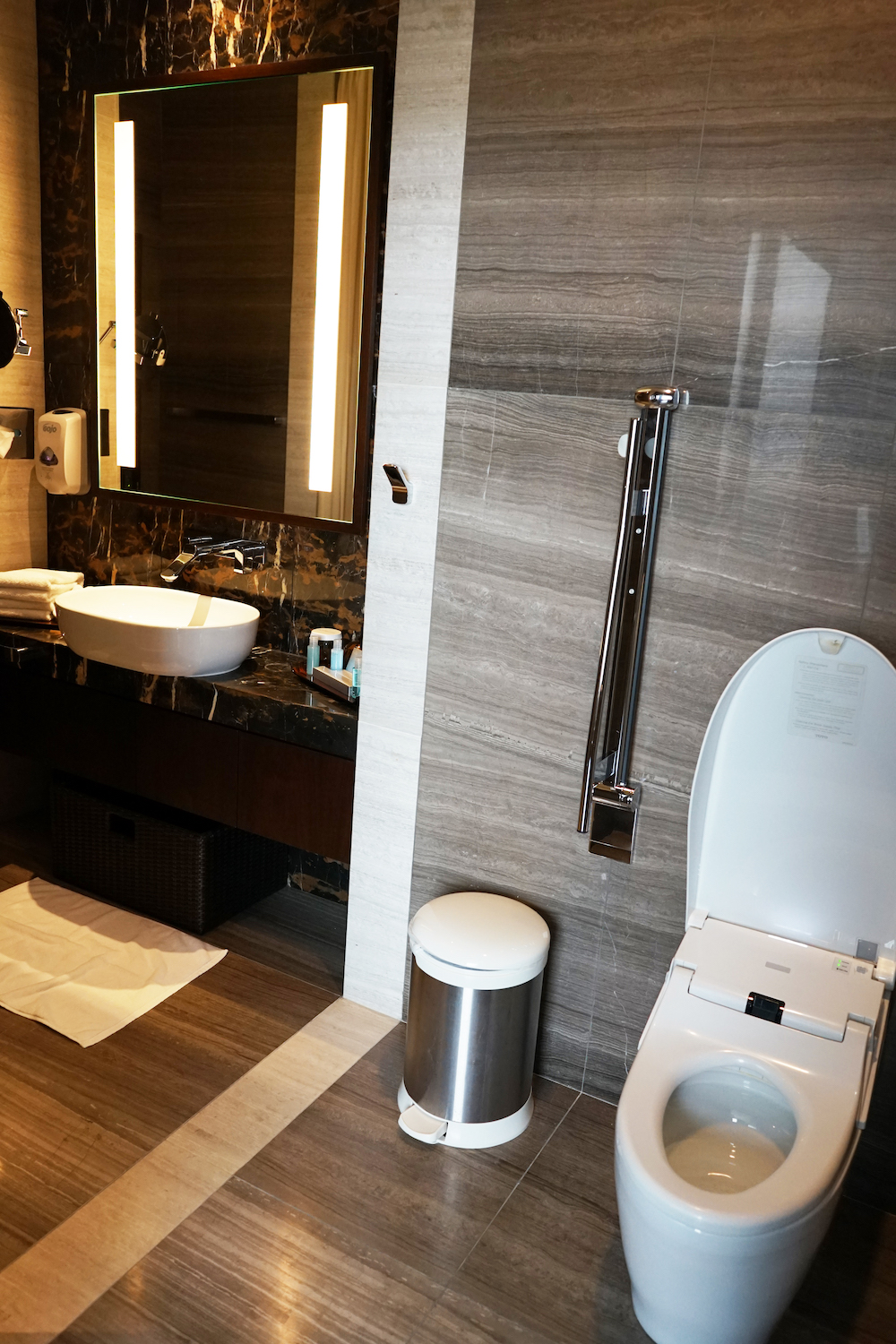 These were the photos from the maternity tour but I actually think I got the exact same room for my stay.
That same night, after the epidural wore off around 4am then it began to really, really hurt. My stitches down under were absolutely excruciating! I pretty sure I teared a little (or quite a bit) because it was THAT painful. I also vaguely remember begging for painkillers and the nurses were so kind to try their best to help me work through my pain. But I'm guessing that the pain that I experienced was probably still nothing compared to those who chose to go au naturel.
Breastfeeding?
So there was that, and then there was breastfeeding. For some reason, I just didn't read up much about the actual birth process itself or breastfeeding so I was clueless about what happens hereon from the minute I checked into the hospital. Immediately after the birth, I was dealing with the pain and having to "breastfeed" every three hours. I say "breastfeed" because my milk had not come in at that point. I had no idea what I was doing with a baby at my boob who wasn't born knowing how to latch. Apparently, they're born with the ability to swallow but not to latch. Thank god for the in-house lactation consultant! Eileen was so sweet and patient and really brought me up to speed on the whole breastfeeding thing. So first, I had to latch my baby on. Every three hours when my baby would come in, I would have him suckle on each breast for 15 minutes to stimulate the coming in of my breastmilk as well. Squishy also happened to have the tiniest little mouth so we had to use a nipple shield. Wasn't until he was about 4 weeks that he could latch directly. More updates on breastfeeding to come. It's quite the journey!
Mount Elizabeth Novena
All in all, I was just so glad that we picked Mount Elizabeth Novena for our birth experience. It couldn't have gone any better. Dr Choo Wan Ling, my obgyn, whose clinic is at Mount Elizabeth Novena, held my hand throughout my entire pregnancy. Although she couldn't be there at the birth because she was on holiday and I wasn't supposed to be due for another three weeks, she made sure that I was in the good hands of Dr Irene Chua. The nurses were also very helpful and made sure that all my needs were catered to. I may have sobbed a little here and there throughout my 17 hour long labour and they were always there to assure me that everything was going to be just fine. Even after the birth, they took such great care of me throughout the first night, which was the hardest for me because of the pain. They were always with me within seconds if I ever called for them, be it for more painkillers or to change the dressing. A big virtual hug to my lactation consultant, Eileen, as well, for walking me through the whats and hows of breastfeeding. Did you know that all mommies at Mount Elizabeth Novena also get a complimentary massage to aid in lactation?
 The highlight of my stay has got to be the penthouse suite for sure. It definitely felt more like a vacation than a hospital stay! I even asked LL if we could extend one more day but alas, we couldn't wait to introduce Liam to his home! There are only two types of maternity wards, the single rooms and the junior suites. The single rooms already barely look like hospital wards, with wood furnishings all around and even a little wardrobe to keep your clothes in. We chose the suite and we're so glad we did because we had so many visitors in our short three days there. Since the suite comes with a living room, it was convenient for me to nurse in my room while the guests stayed in the living area, or in case I needed more rest. There was also an outdoor area should baby and I feel like getting some fresh air!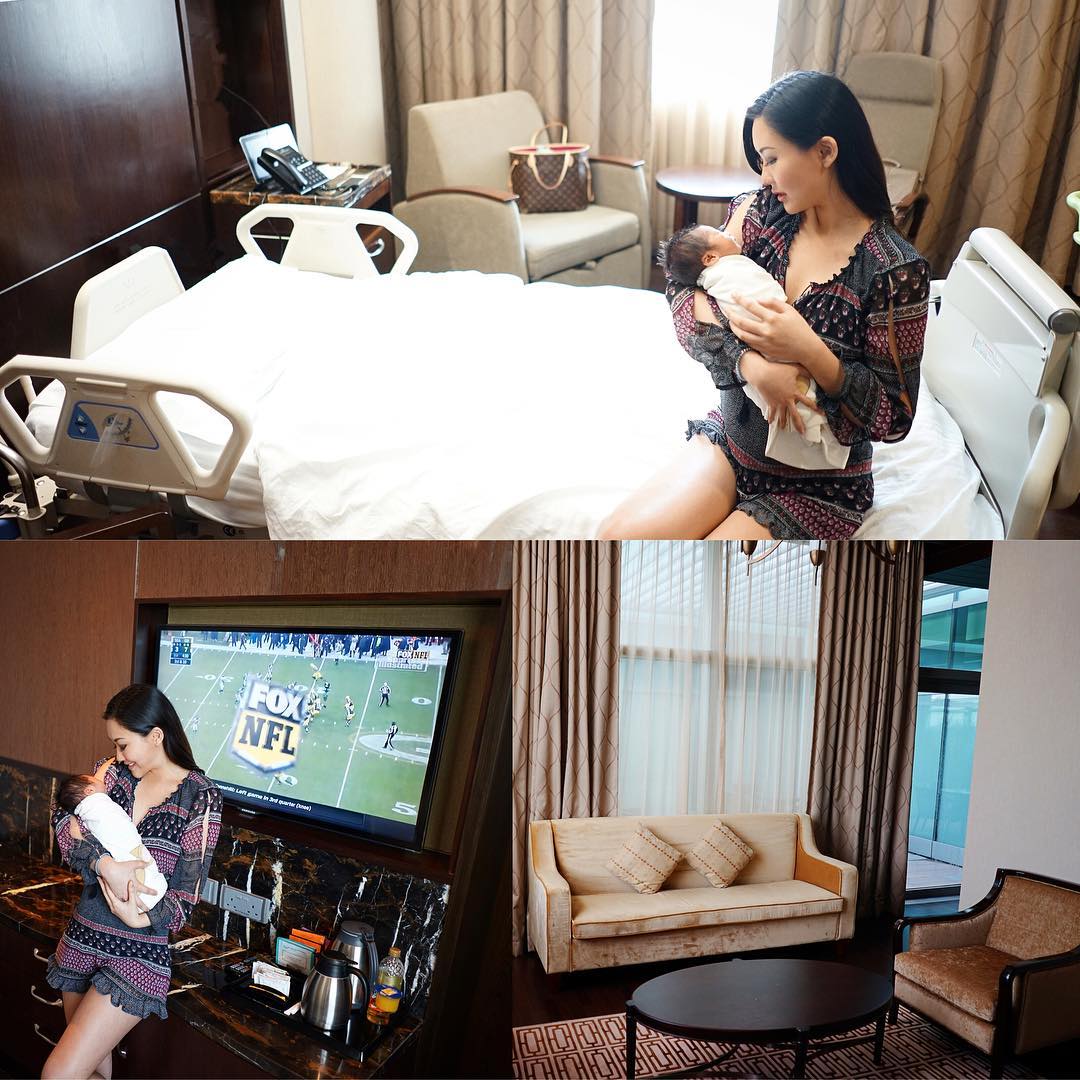 And that makes two generations of Mount Elizabeth babies!  Thank you Mount Elizabeth Novena for the most beautiful experience I could ask for as a first time Mom. I wouldn't have done this any other way. Maybe it seemed so easy breezy that the first thing daddy said when we got home was "Let's do it again!"