– Advertorial –
I'm not sure what I'm more excited about… The birth of our little baby boy in January or our wedding in July! But psst… I'm not exactly the most hardworking bride so we haven't exactly started planning at all. That was until I found Bridestory!
Only every bride-to-be's dream come true!
Why? Because the inspirations that you save to your pinboard are from real vendors based in your region! So instead of finding something really nice on the web and having to look for someone in your home country who can do the exact same thing, these inspirations on Bridestory are all real photos and real work done by vendors near you. How convenient!
We are planning to make our wedding a cosy celebratory affair at home, which means that I won't be having hundreds of staff from a hotel helping me out with the decorations and catering. I will be having to make a lot of these decisions on my own! But thanks to Bridestory, I can find pretty much anything really easily, from caterers to florists to cakes and so on. Of course, I am just saying this from my perspective as a bride who is managing everything herself. But even if you are holding your own wedding at a fancy hotel, I'm sure you can still find inspiration on Bridestory or even a vendor that you fancy working with that you may even refer to your planner or hotel!
So this is Bridestory…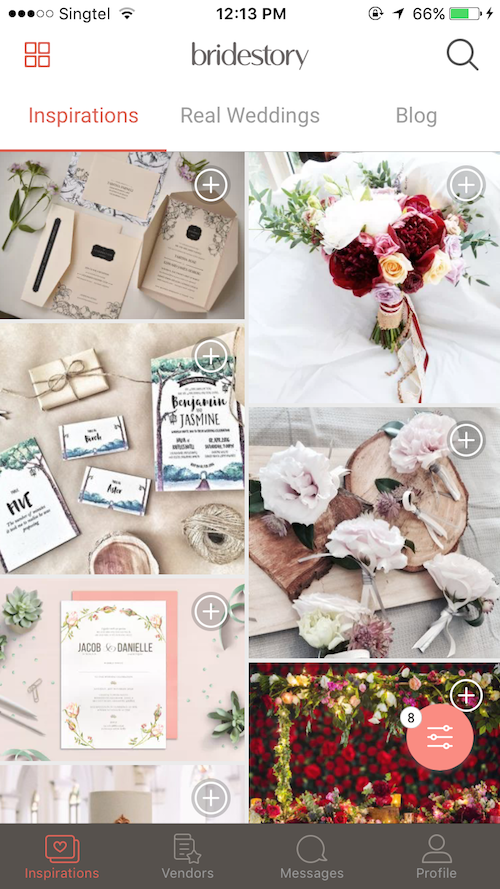 In case you're new to the Bridestory app, the front page already shows you what's trending. You don't even have to scroll very far to find something pretty!
And you can click on that pink round button at the bottom right corner to adjust your filters. In my case, I've chosen to focus on the following as you can see below. And in my favourite colours! Just perfect for my cosy at-home celebration.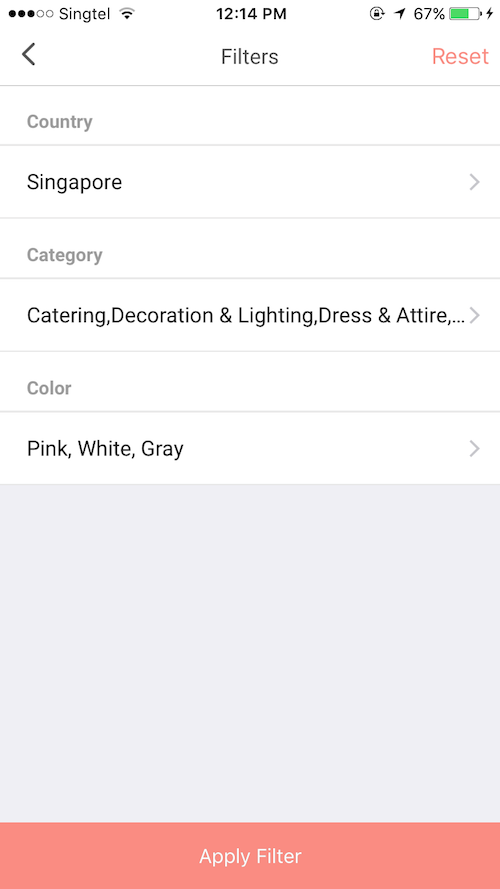 And to search for particular vendors in whichever category you are interested in, simply click on "vendors" at the bottom bar.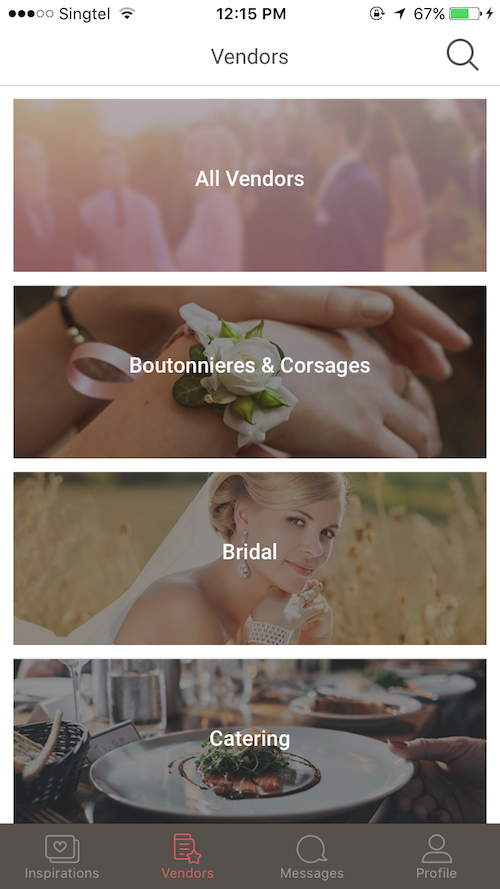 And from here you may select your category of vendors to choose from!
What's on my Bridestory?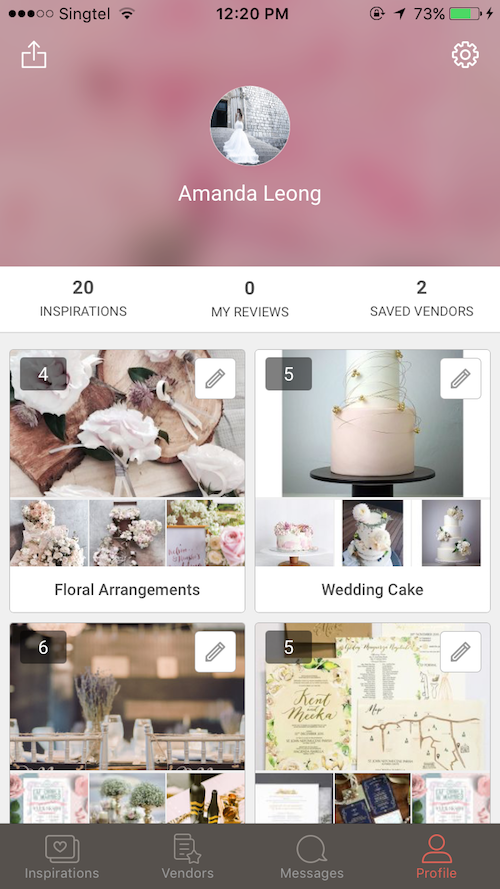 So this is my Bridestory and what I've saved so far. I'm new to this and pinning more every single day, but focusing mostly on decor, invites, cakes, and floral arrangements as you can see! I love that I can always come back to my profile page to find what I was looking at before. These are all the things that I will have to be settling for the wedding very very soon!
More on Bridestory…
Real life wedding inspirations! Because poster weddings CAN come true…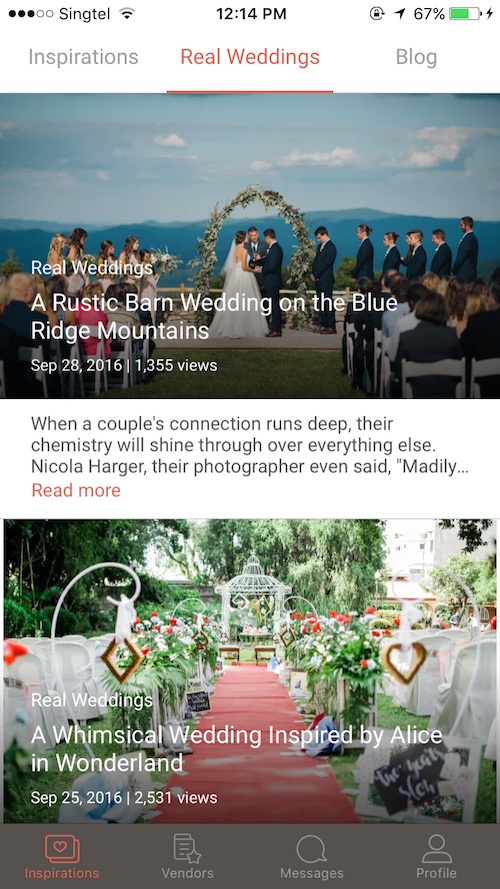 I really like reading this section because these are real weddings that happen in Singapore and around the region. It is a lot more relevant to our culture as compared to all the articles you may find on the internet. You can even look out for venue inspirations or vendors if you like what you see.
And not unlike pregnancy apps (haha!) there are blogs to guide us brides along our planning process. Nobody ever taught us what to do when it comes to weddings, except of course your parents, but the stress of planning a wedding is not to be taken lightly! I feel like these blogs definitely help to calm those nerves by sharing real life experiences and really useful advice.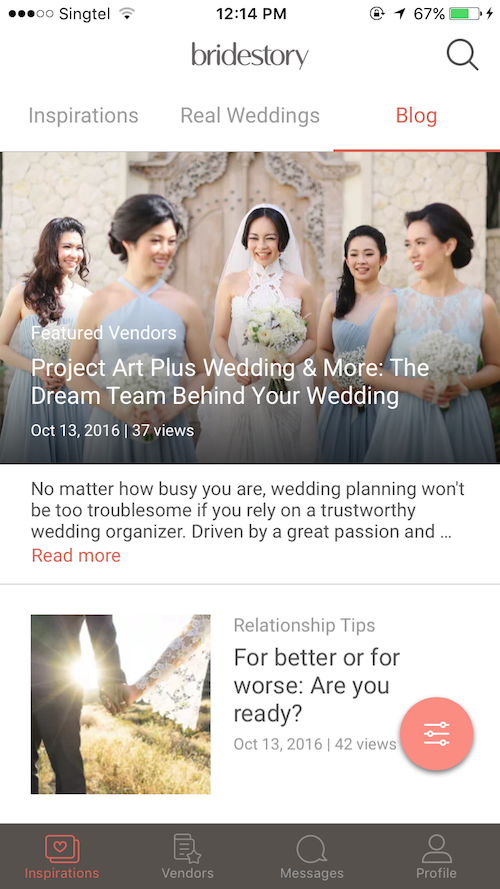 I sincerely hope that this blog post goes out to all the brides-to-be out there and that what I've shared about Bridestory will make your planning process a lot easier! I know it has for me!
Download Bridestory on the App Store and Play Store today!