So my pores may be a little more obvious now, and my skin isn't as clear as it used to be. But still, I am not going to risk exposing my unborn baby to potentially harmful chemicals. While I admit that my pre-pregnancy skin care lineup gave me absolutely flawless skin, I am willing to give that up for a few years for a happy and healthy baby. I'm not sponsored in any way to share any of this but I just thought that sharing could be helpful for fellow moms-to-be out there!
Click here for the rest of my blog posts relating to pregnancy!
I have switched to several brands that are known to be free of the usual harmful chemicals, and here is everything that I used to use, and currently do!
Pre-Pregnancy Skin Care Lineup
VMV Hypoallergenics Hydra Balance Cream Cleanser
Sulwhasoo First Care Activating Serum
Sulwhasoo Essential Balancing Water
Sulwhasoo Essential Balancing Emulsion
Fresh Black Tea Age-Delay Eye Concentrate
Biore Cleansing Oil Cotton Facial Sheets
Algenist Genius Ultimate Anti-Aging Bi-Phase Peel
Oxy 5 Acne-Pimple Medication
Current Skin Care Lineup

Organic Surge Daily Care Face Wash
Human Nature 100% Natural Acne Defense Facial Wash
I use either of the above as a face wash depending on how my skin is feeling on that particular day. The facial wash from Human Nature really helped to clear my skin up because of the tea tree oil that's in it. It's not the best smelling thing in the world, but hey it works! The one from Organic Surge is slightly drying but seems to work well as long as I put on toner and moisturiser afterwards, which I always do anyway.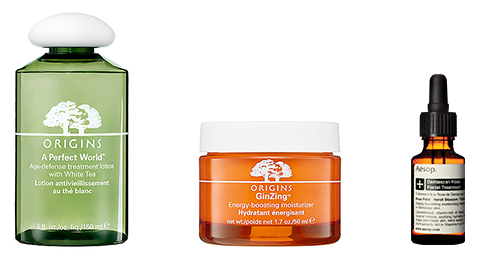 Origins A Perfect World Age-Defense Treatment Lotion with White Tea
Origins Ginzing Energy-Boosting Moisturiser
Aesop Damascan Rose Facial Treatment
Origins – my new favourite go-to brand. I tried out the clay masks in sample sizes while I was in Europe and just thought that they were amazing. So I thought to try out the rest of their products. The treatment lotion is essentially a toner and it works and smells great. I love that there are no artificial fragrances in there and I really feel that it soothes my sensitive skin. The moisturiser is refreshing and great too. Smells a little citrusy and it's not too oily. It's perfect as a day moisturiser because it's not oily or sticky at all – in fact, it melts and disappears into your face and makes you wonder if you even remembered to put it on – but perhaps not enough as an overnight moisturiser. In the night, I mix in a few drops of Aesop's Damascan Rose Facial treatment (basically a face oil) with my Ginzing moisturiser and I wake up to brighter skin!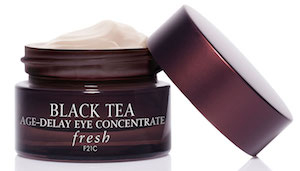 Fresh Black Tea Age-Delay Eye Concentrate
Still my favourite eye cream. I like my eye creams really rich because I tend to feel like the skin around my eyes get dry and tight and God forbid I gain a few extra lines every few years! A personal favourite, does its job, and my eyes always feel extra protected from fine lines.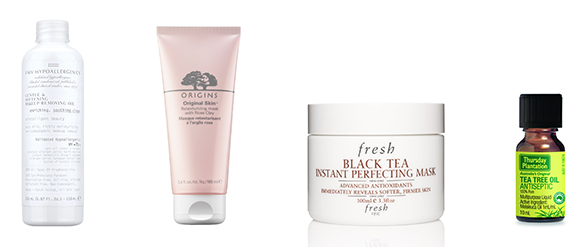 VMV Hypoallergenics Makeup Removing Oil
Origins Original Skin Retexturing Mask With Rose Clay
Fresh Black Tea Instant Perfecting Mask
Thursday Plantation Tea Tree Oil
Here are some of the products that are not in my everyday skincare routine, but are still considered essential. I have since ditched, come pregnancy, my usual Biore makeup remover sheets for this makeup removing oil from VMV. It's not perfect but it does its job. One bonus is that my skin feels super moisturised after! The rose clay mask from Origins is an absolute "holy grail" deep-cleansing mask that I use about twice a week. My skin just feels so clean after and I definitely feel that it helps to keep my overzealous oil production glands from going into overdrive now that my hormones are. Hence, less pimples. Hurray to that! And now that my skin is more sensitive than ever, the perfecting mask from Fresh is a mask is perfect for calming and soothing with its cooling effect. 15 minutes and twice a week with this mask is all I need. Lastly, tea tree oil is a great natural alternative to pimple cream!
Hair & Body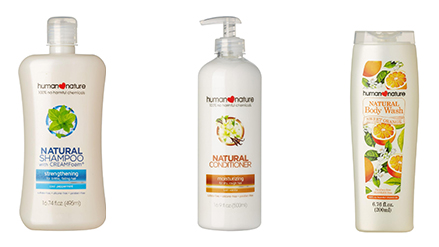 Human Nature Natural Shampoo in Cool Peppermint
Human Nature Natural Conditioner in Lush Vanilla
Human Nature Natural Body Wash in Sweet Orange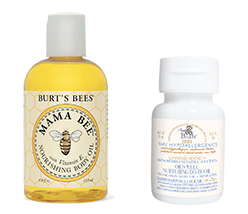 Burt's Bees Mama Bee Nourishing Body Oil
VMV Hypoallergenics Grandma Minnie's Oil's Well Nurturing Do-It-Oil
The two oils above that I use around my tummy are hopefully what will prevent me from having any stretch marks at all. Will they live up to their promise? I'll let you know in about 5 months!
Although I can't say that all the products that I'm currently using are 100% free of potentially harmful chemicals, they are at least 99.9% free of them, and all free of parabens, phthalates, and artificial fragrances to the best of my knowledge. I also use either of the abovementioned body oils as a leave-in hair conditioner after showers. I have never smelled better and my hair has never been softer! Also, I love smelling like the rainforest with all these natural scents from the essential oils used in the products!
Caution
Huge fan of the Black Tea anti-aging range from Fresh! But not all the products from Fresh are free from PEG, fragrances, etc. so do check out the full list of ingredients before you purchase and use! I was also more than surprised to find out that not all Burt's Bees products are free from fragrances. Phthalates can be listed under fragrances and hence I'm not sure if these scented Burt's Bees products are free from them. Thankfully, the nourishing body oil seems to be free of perfumes. So read the full list of ingredients carefully before you purchase and use!
I really hope that this post goes out to all cautious mommies-to-be and helps them find their natural alternative to hair and skincare products. I know that I have benefited a lot from mommies who blog about their pregnancy experience and I sure hope to contribute a little!
Click here for the rest of my blog posts relating to pregnancy!