Is it me or is my baby going through a little growth spurt of his own now? I feel like my baby bump doubles in size every time I look down! I have also started to feel my little squishy moving around inside. It's starting to feel so real. I first felt squishy pushing against my wall and rolling around, and now he's starting to kick. Not major kicks, but mostly little unmistakeable pops. How cute! It brings a smile to my face every time I feel him moving inside me.
Click here for the rest of my blog posts relating to pregnancy!
12th August, 2016
Headed to Nuffnang's office to film a little short video on my thoughts on social media. I had so many errands to run that I brought little Chowder along to the office with me. I had to take her to the vet after to remove her stitches from sterilisation. She was the center of attention with everyone at the office and I honestly think she loved it!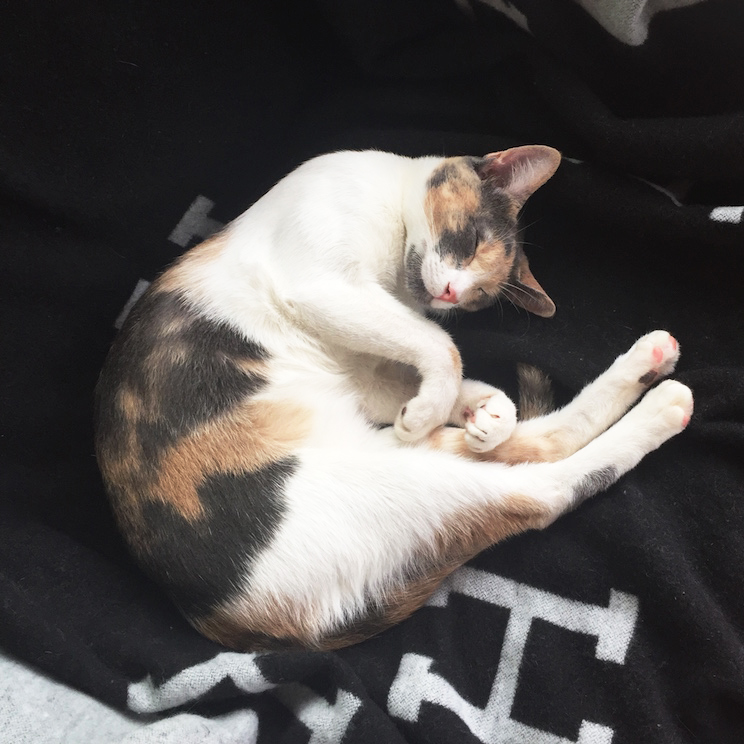 Took me about forever to find something that I could fit into for the filming. And then, an epiphany struck. Whatever happened to those stretchy-ass multiway dresses that I bought from ASOS a while ago! I dug them out and voila! They fit like a glove! (And by that I mean like a latex glove.) Sure, the bottom's a little tighter than usual but the top half gave me the freedom to wrap it in any style, and size mind you, that suited my mood or figure that day!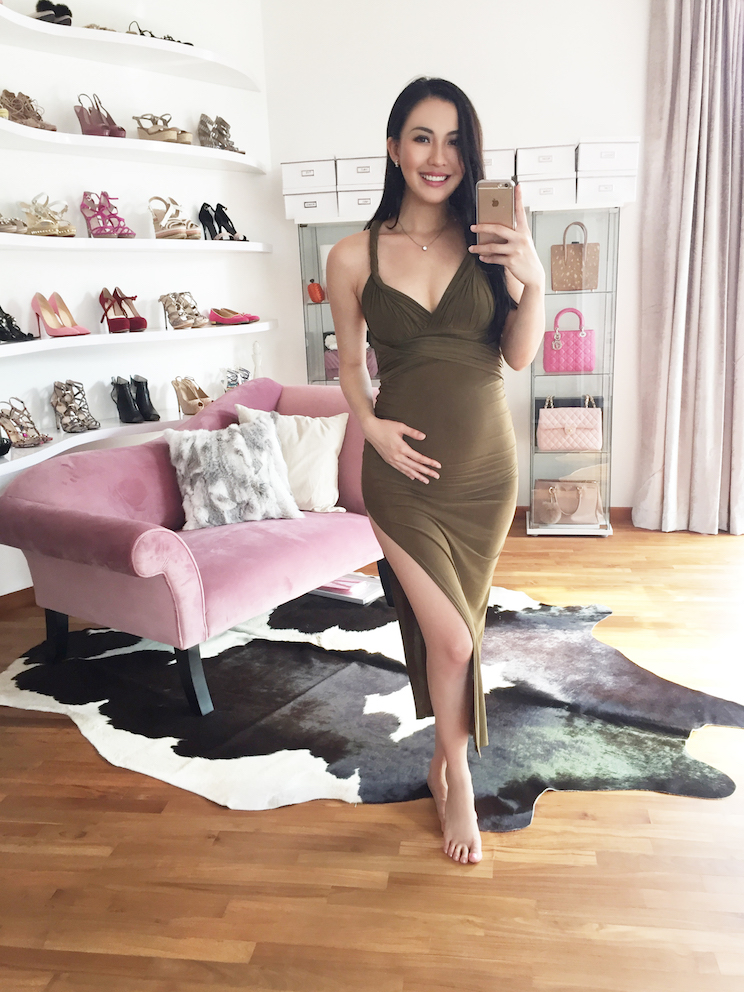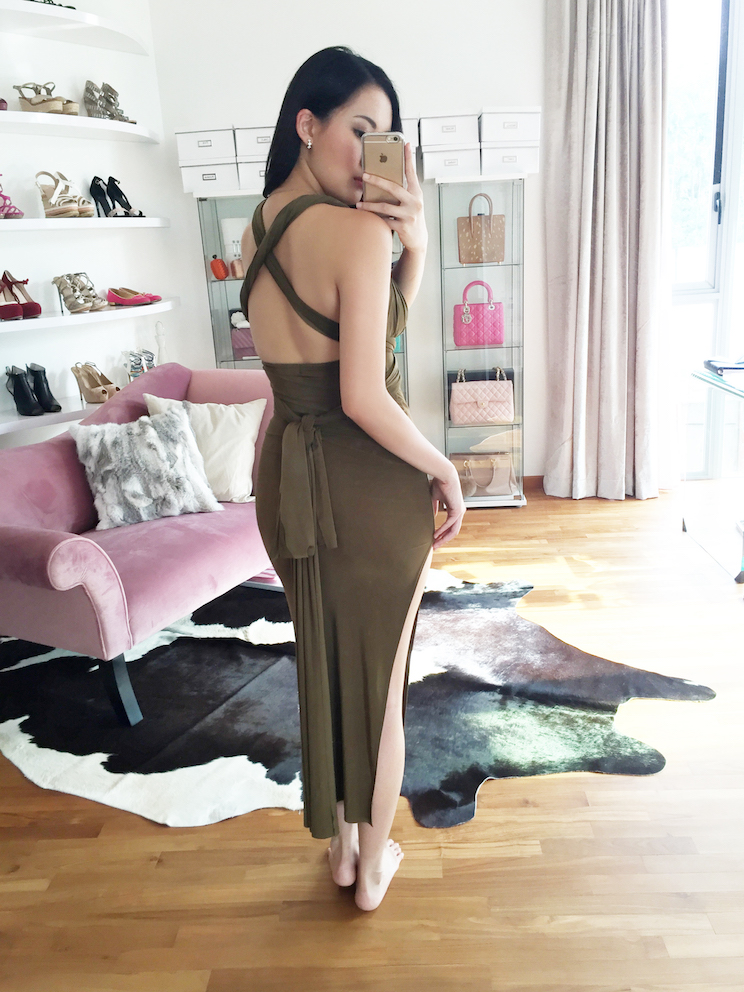 I am such a genius!
And then I went on ASOS and bought another 5 later that evening. Check out the Club L multiway dresses on ASOS if you have to. They have pretty amazing stretchy stuff that'll take you from girl to whale and girl again. Just sayin'.
16th August, 2016
Another trip to the doctor, yay! I love heading to the clinic because I get to see how much my little squishy has grown every single time! Also, I get to keep a photo of him. This time, we went to a different doctor.
Previously, we were at Mount Elizabeth Orchard and there were a few factors that eventually led us to the switch in our doctor. Firstly, our doctor was way more expensive than most. I won't say her name but she seems to be one of the most experienced obgyns in Singapore, which is probably one reason for her rates. Another reason could be that she specialised in high risk births, which was not my concern. We were paying up to $400 per visit, which we eventually thought was too much after 4 or 5 visits. And it wasn't like we were extremely attached to her anyway.
And so we switched to Dr Choo Wan Ling at Mount Elizabeth Novena. After looking around, we also realised that we wanted to deliver at Mount Elizabeth Novena because it's newer, looks just like a hotel, and less costly. Dr Choo also provides a package at $950 from week 16 to delivery which was extremely reasonable for a private practice, and although we didn't get a discounted rate even though we were 3 weeks past week 16, it didn't matter because it was much much less than what we would have paid back at Mount Elizabeth Orchard.
Going in, Dr Choo was smiley and cheerful and quickly got down to what we were waiting for – our ultrasound scan! She filled us in regarding any of our queries and was very reassuring. I definitely feel like I made the right choice to switch, because I think it's important that you at least feel comfortable with and trust the person who will deliver your baby.
So here's our little squishy, growing happily and healthily in my belly. It's amazing how much he's grown in the last 19 weeks and I cannot believe that we are already at the halfway mark. I know the scan isn't HD quality but do use a little imagination and you'll see him curling up with his legs way above his head. Seems to be his favourite position as we've been seeing that in the last couple of scans!
17th August, 2016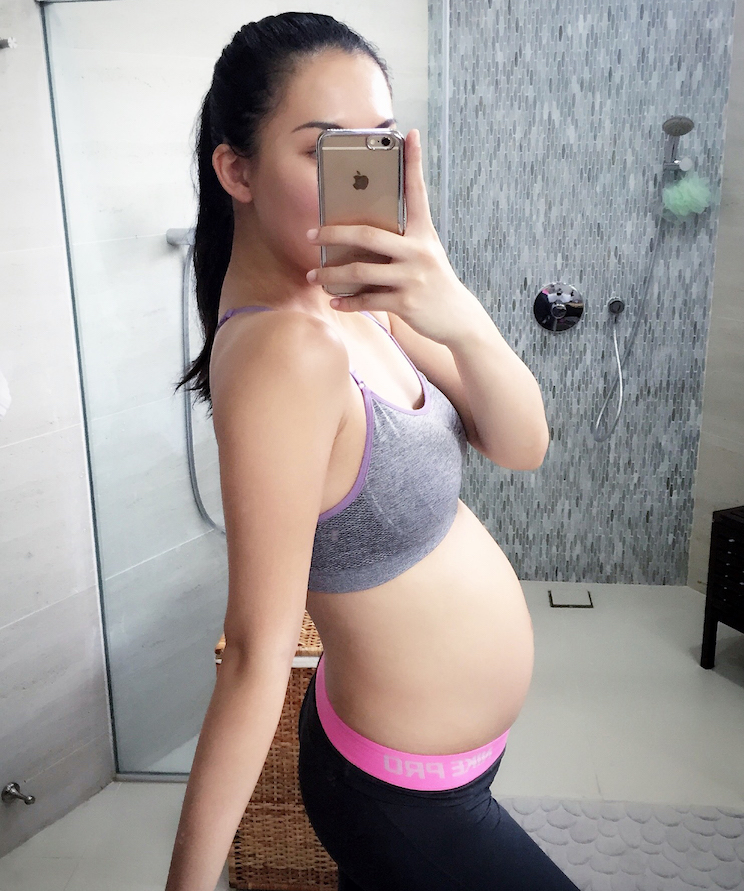 Now that I'm feeling a lot more energetic that I have ever been in the last few months, I feel good enough to get back to my workout! Of course, with a little less rigour. I'm starting to go back to Xtend Barre at Upside Motion, and even signed up for GuavaPass for all the yoga and specialised prenatal classes. I'll blog about my prenatal fitness experience with GuavaPass separately so watch out for that one!
18th August, 2016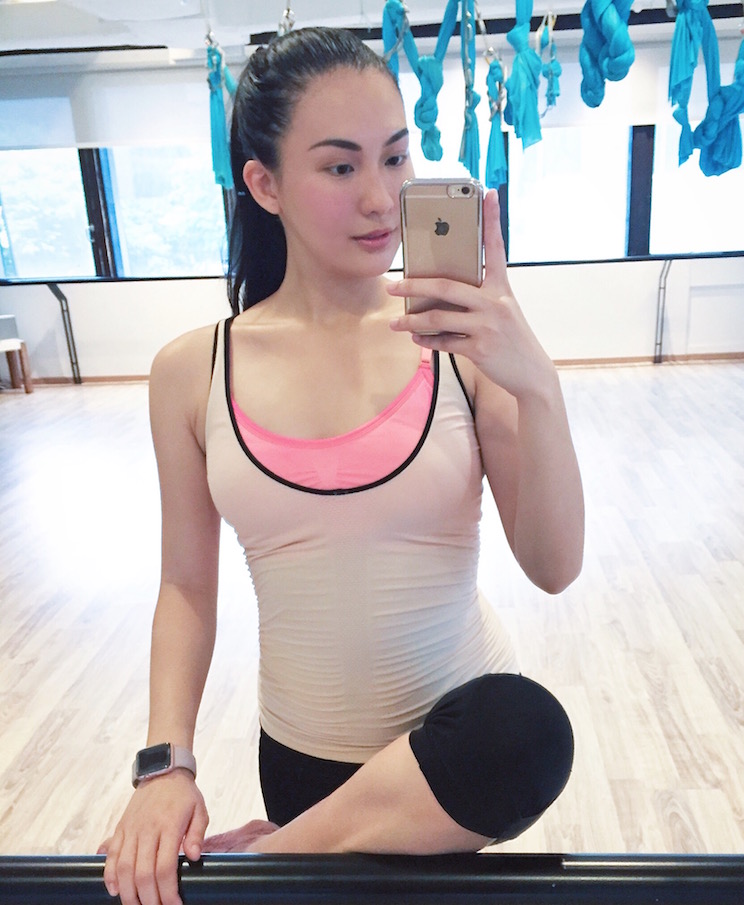 Back at Xtend Barre at Upside Motion!
20th August, 2016
It's been a loooooooong time since my last night out, much less girls' night out! And this time, I stayed out past 10pm. Gasp! #badmom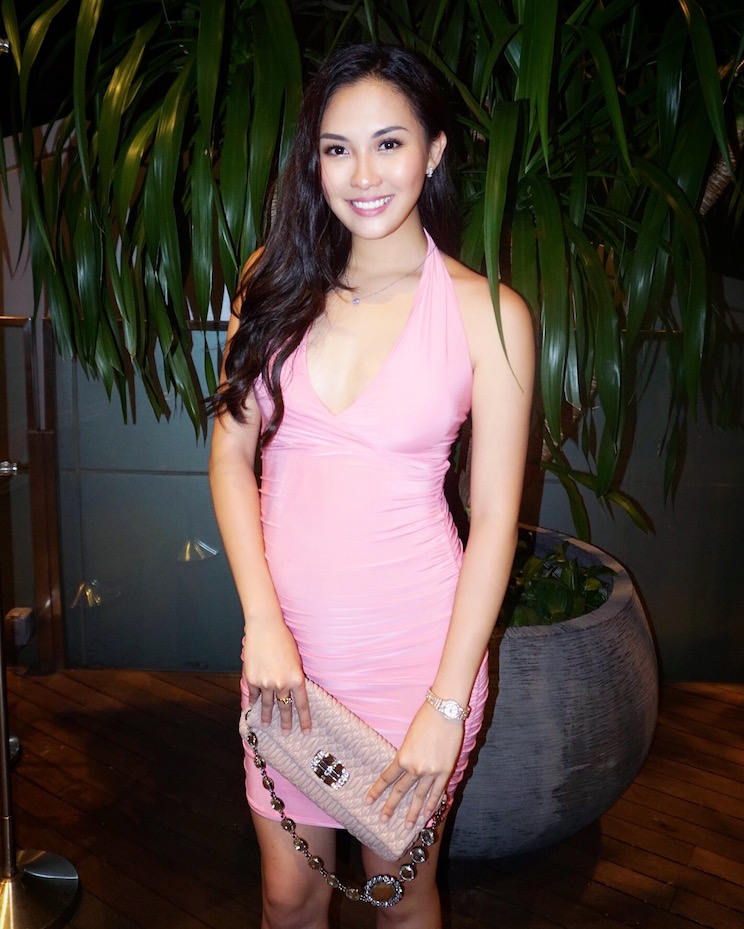 I don't think I qualify for a priority seat on the train just yet. Still looking like I'm in between a big bowl of pasta and pregnant!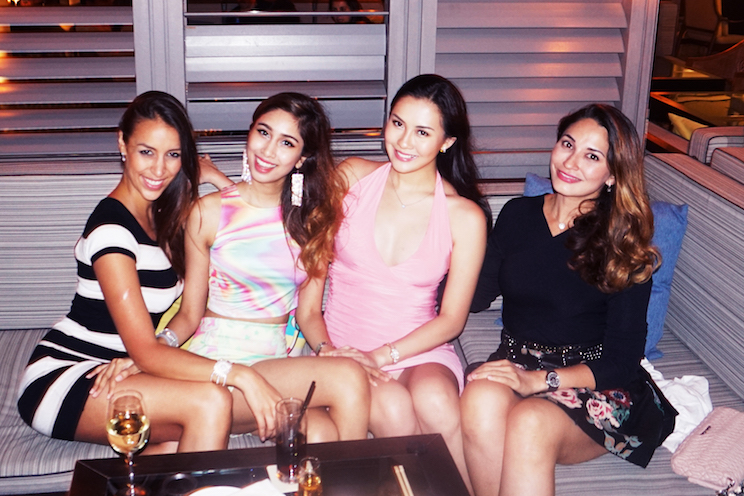 Lovely catching up with my girlfriends, but it was so much more exhausting than I had imagined. We had guys come up to us every 15 minutes asking us to join their table or chat us up (I think I don't look pregnant enough…) and there were just smokers at every corner, which I spent all night trying to avoid! By 11.30pm I was well spacing out because I was way too tired to carry on a conversation. Next time we know to do brunch instead!
23rd August, 2016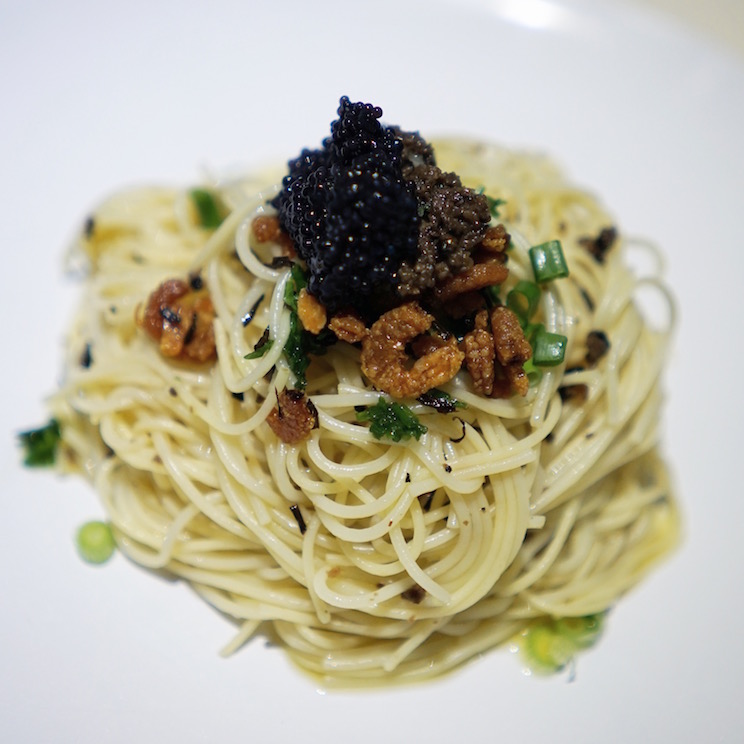 My first attempt at the truffle capellini topped with black caviar! It's not exactly up to Les Amis' standard but I would say that it's about 80% there! I've been cooking a lot lately, almost every day, and I'm wondering if it's because there's a little chef growing inside of me. Wonder what squishy will grow up to become? And in case you're wondering, it's black truffle paste, truffle oil, and dried shrimps and chives deep fried in olive oil. Plus, a dash of lemon juice with black caviar to top!
25th August, 2016
I'm not going to share with you photos of our engagement ring just yet, but yes we've picked one out! We got it together after looking for one for a while, so no surprises for him or me there. Well, most of it was him giving me a budget and letting me pick out what I want.
I picked out a marquise diamond to be set in a classic Winston setting. Did you know that the marquise cut dates back to the 16th century when Louis XV of France when he commissioned a jeweller to fashion a diamond after the lips of his lover? How romantic! Also, the rare design means that I'll hardly find somebody else with a similar looking engagement ring. I only hope to pass it down to my baby boy when he finds someone special someday.
We collected our ring yesterday and after dinner while lying in bed I asked LL if he could propose to me. And so he paused his batman cartoon and asked me to marry him! I'm pretty sure squishy was kicking a lot afterwards because he was celebrating inside me. If squishy grows up to love batman, I'll know exactly why…
Click here for the rest of my blog posts relating to pregnancy!
Can't wait to share with you some pictures from our maternity tour at Mount Elizabeth Novena! The delivery suites and maternity wards were amazing. Watch this space!